Seminar looks at history of grades, future of documenting learning
University of Maryland professor Ethan Hutt discussed the history of the U.S. educational grading system during this semester's Provost's Seminar on Teaching, and posed questions to consider when rethinking the manner in which student achievements are presented.
Hosted by the Center for Research on Learning and Teaching, the half-day seminar — titled "Beyond Grades: How Do We Represent Student Accomplishment?" — also included a set of lightning talks by faculty, students and employers, who discussed what they would like a transcript to reflect about students' learning.
Students noted that a list of grades, even a list of high grades, fails to convey the work or challenges they may have overcome to achieve those grades.
Faculty, staff and students then broke into groups and brainstormed ways the university could present external stakeholders with a richer picture of student achievement than is currently available through the list of courses and grades on a transcript.
When attendees reassembled at the end of the day, they noted many challenges to making progress, but expressed a desire to experiment with new forms of transcripts to better represent the accomplishments of our students to audiences both external and internal.
CRLT Director of Assessment Malinda Matney said traditional grades can be "flat descriptions" that fail to capture other important aspects of the educational process, such as the connections that students are making or their growth and development.
Attended by more than 120 participants, Hutt's keynote set the stage for the seminar's discussions about current and potential new approaches to documenting student achievement.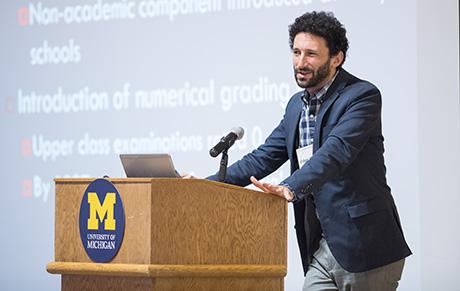 University of Maryland professor Ethan Hutt delivers the keynote address at the fall Provost's Seminar on Teaching. (Photo by Austin Thomason, Michigan Photography)
Hutt said the history of student records and grading is a history of negotiations between a series of constituents: institutions within and across sectors, institutions and their students, and institutions and the government.
"If we want to reimagine student grades and student transcripts, we need to contemplate these relationships," Hutt said.
In some early models of grading, assessments were fluid and happened on a day-to-day basis instead of in a cumulative manner. In one model, towns would gather and watch students who would stand on a stage and recite answers to pre-selected questions. The ability to perform on command was a marker of a well-educated student, Hutt said.
In the mid- to late 19th century, Hutt said, colleges began to experiment with more information-rich systems that were not just based on performance.
Around 1840, the idea of report cards came into being, with reformers at the time likening the format to a merchant's ledger that would maintain a running total of educational successes and failures.
Later, the Carnegie Foundation created the Carnegie unit as a universal unit of student educational attainment, helping cement the distinctions between the K-12 system and higher education.
In the 1940s, the U.S. system of higher education experienced a new challenge when soldiers, many of whom had limited or no high school experience, returned home and continued their education. The General Educational Development certificate — commonly known as a GED — was created to certify a set of competencies, Hutt said.
Hutt concluded his session with a set of questions for faculty members to consider, including: What governance structures are needed to address the challenges that come with new learning experiences and credentials? How will a reimagined student record address the needs of multiple audiences? And what is the ideal role of government?
Rather than waiting on government to create innovations for higher education, Hutt suggested solutions should come from the institutions themselves.
"Innovation in higher education has always worked best when we solve the problem, developing a solution and presenting it as the answer to a problem that maybe hasn't been posed yet," he said.