2018 Distinguished Dissertation Awards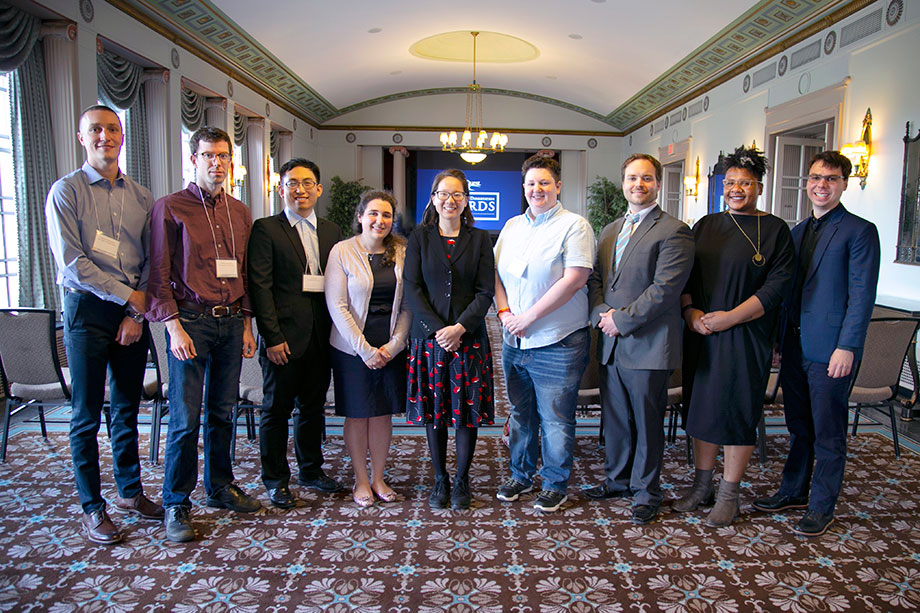 The 2018 ProQuest Distinguished Dissertation Award recipients were honored this week. Awardees received a $1,000 honorarium recognizing exceptional scholarly work and completion of their doctoral degrees in 2018. The annual competition is co-sponsored by ProQuest and Rackham Graduate School. Awardees are, from left: Dakotah Thompson, William Stroebel, Qi Chen, Meredith Skiba, Charlotte Chan, Traci Johnson, David Morphew, Jessica Moorman, Cyrus O'Brien. Not pictured: Michael Won. (Photo by Jameson Staneluis)
'Orion' returns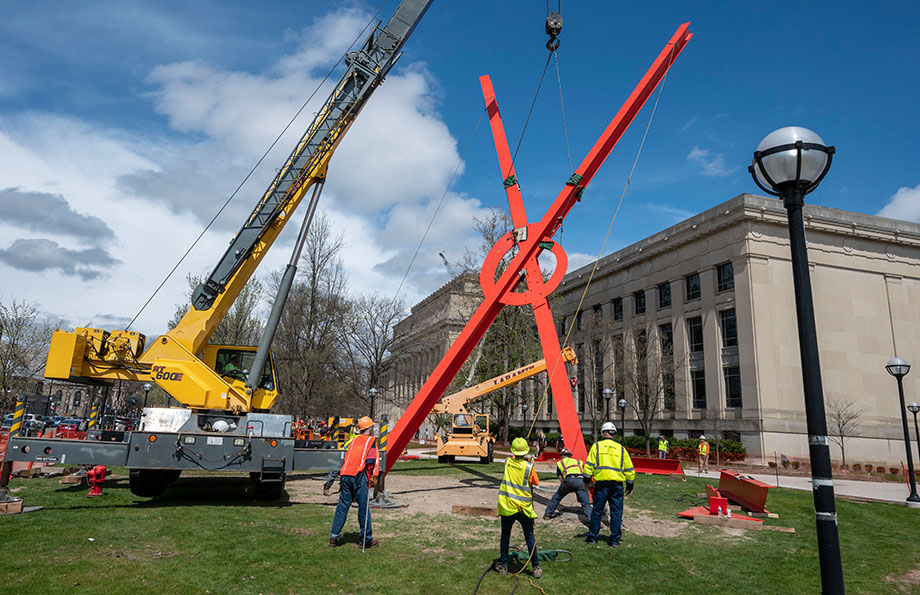 Workers from the Walbridge construction firm are reinstalling artist Mark di Suvero's "Orion" sculpture in front of the U-M Museum of Art. The sculpture had been removed in preparation for a campus construction project in the summer of 2018. Di Suvero is on site to help reinstall the 53-foot-high, 21,220-pound steel sculpture on Tuesday and Wednesday. UMMA will host "Making Art Public," a conversation about the role of public art at universities, with di Suvero and UMMA Director Christina Olsen at 5 p.m. Wednesday. It is free and open to the public. (Photo by Roger Hart, Michigan Photography)
Construction banners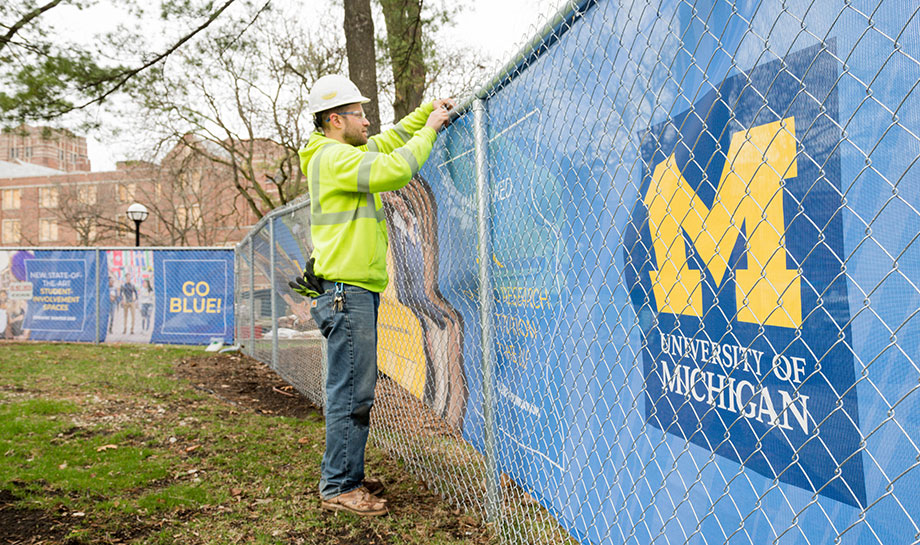 Under the direction of Architecture, Engineering and Construction, Mike Kalil Jr. of the construction company Walbridge installs fencing banners around the Michigan Union construction site. The maize-and-blue barrier signs are intended to help brighten and explain the many construction sites around campus. Similar signage sharing construction project information, as well as marketing for key university initiatives like the "Go Blue Guarantee," soon will be incorporated at a number of high-profile sites under construction or renovation, including the Kraus Natural Science, Ruthven and School of Dentistry buildings. (Photo by Daryl Marshke, Michigan Photography)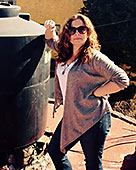 Faculty/Staff Spotlight
"I was really interested in thinking about how could we understand the systems that are holding soda consumption in place and making it so that it actually doesn't make sense to drink water."
Elizabeth Roberts, associate professor of anthropology
Michigan in the News
Meghan Duffy, professor of ecology and evolutionary biology, and her research on water fleas, or Daphnia, was the subject of a feature story. Daphnia keep freshwater clean by eating algae, yeasts and bacteria; maintain ecological balance; filter healthy waterways; act as a food source for amphibians, insects and fish; and may someday serve as antifungal medicines for wildlife, crops and people.
An average meal sourced from a grocery store is responsible for 33 percent more greenhouse gas emissions than an equivalent dish from meal kit delivery services Blue Apron and HelloFresh, according to research by doctoral student Brent Heard of the School of Environment and Sustainability and Shelie Miller, associate professor of environment and sustainability, and of civil and environmental engineering, and director of the Program in Environment.
"In a context where turnover is high and workers do not typically have many opportunities to communicate their concerns to management, providing workers with voice can be a simple yet powerful way to keep workers from quitting," co-wrote Achyuta Adhvaryu, assistant professor of business economics and public policy at the Stephen M. Ross School of Business.