IPE in Action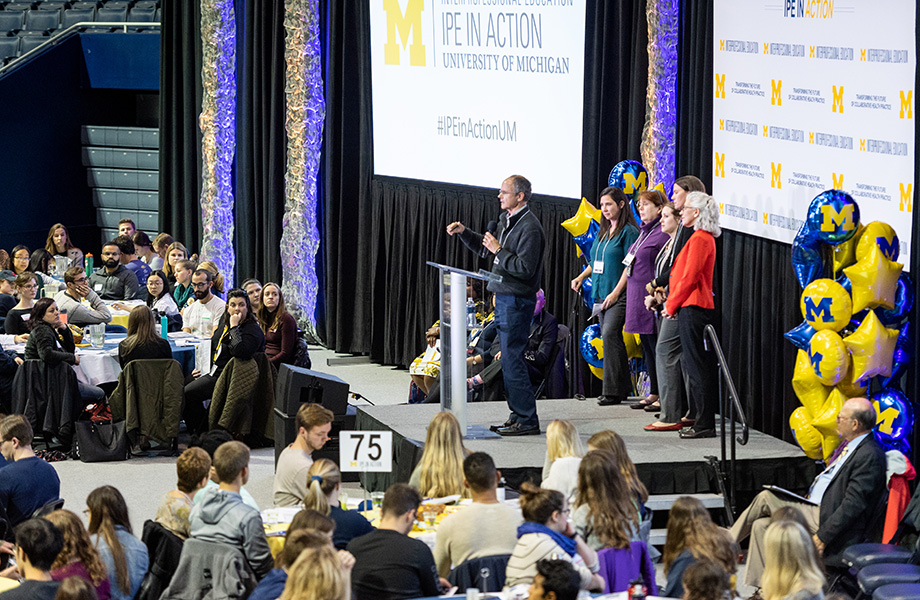 Brent Williams, professor of internal medicine and a member of the U-M Complex Care Management Program, makes a presentation at IPE in Action on Wednesday as other members of the interprofessional team of care providers who also presented look on. The presentation was part of an inaugural event that drew more than 1,200 health science students and faculty to Crisler Center for what is considered a watershed moment in the relatively new IPE initiative at U-M. (Photo by Scott C. Soderberg, Michigan Photography)
Changing lives through code
How can a simple game of Rock, Paper, Scissors help high school students learn to code in the computer language Python? In this video, Robin Brewer, assistant professor of information, works through Brave Initiatives to show high school girls the opportunities in technology.
Art and science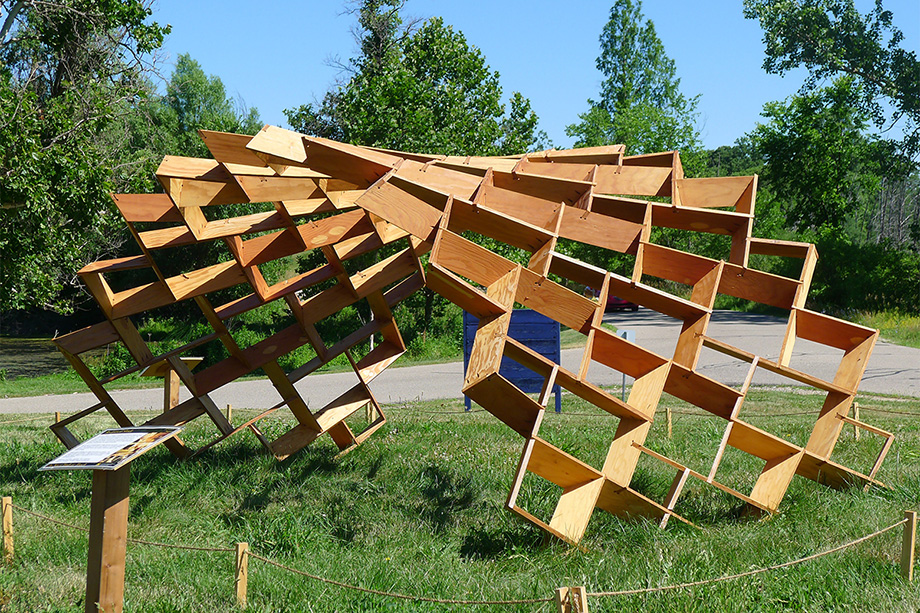 Reciprocal Shades is a structure designed and built by architecture doctoral student Omid Oliyan Torghabehi, and installed in June. It's now on display in front of the Matthaei Botanical Gardens main entrance. Reciprocal Shades is a research project whose design is based on the historical reciprocal frame structure construction method. (Photo courtesy of Matthaei Botanical Gardens and Nichols Arboretum)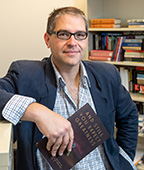 Faculty/Staff Spotlight
"My wife's family has been affected by incarceration. So when you see how it works up close, most people's reactions are shock. Then you get sucked in because you get mad."
Phil Christman, lecturer II in English language and literature and editor of the Michigan Review of Prisoner Creative Writing
Michigan in the News
"With high-resolution cameras and all the other remote-sensing instruments at different wavelengths, it's quite possible we're going to find very new features that we have not thought about possibly existing on Europa," said Xianzhe Jia, associate professor of climate and space sciences and engineering, who has found evidence of vapor plumes on Jupiter's moon Europa.
Molly Welch-Marahar, policy fellowship program manager for the Center for Healthcare Research & Transformation, says proposed regulations could jeopardize an invaluable component to the substance abuse treatment network — recovering addicts helping those in treatment: "There's more and more support for the mode of peer support being critical in engaging people in recovering and ensuring long-term stability."
Matt Bernhard, doctoral student in computer science and engineering, has shown in videos how he can defeat plastic security ties that counties across Michigan use to protect ballot bags, the cases that store voting machines and the ports that store the memory cards on optical-scan machines, which record paper ballots scanned into them.