Atomic Highways and Byways
In this video, artist Joan Linder provides insight and a tour of the primary site she illustrated for her exhibition "Atomic Highways and Byways," near Willow Run Airport. The exhibition, which runs through March 10 at the Institute for the Humanities, 202 S. Thayer, also looks at two toxic landscapes near Niagara Falls and the ways in which all three are interconnected.
Campus Farm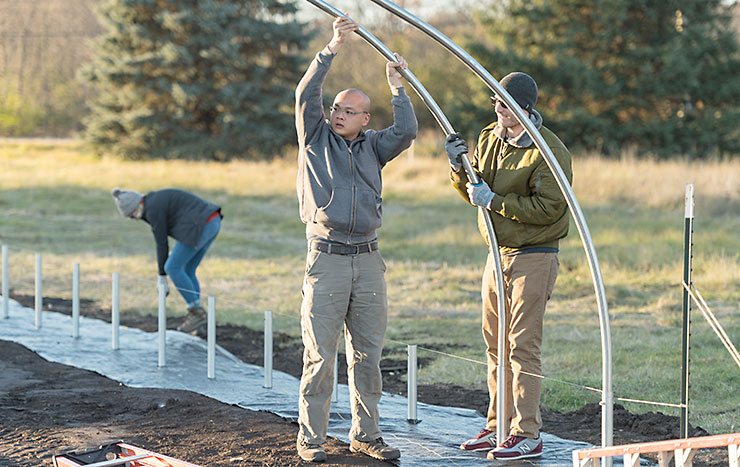 Campus Farm volunteers work to build a hoop house at the farm at Matthaei Botanical Gardens. The hoop house extends the growing season on both ends and will allow more students to engage with the farm during the academic year. (Photo by Scott C. Soderberg, Michigan Photography)
Horowitz's Steinway
Students and faculty at the School of Music, Theatre & Dance recently had the extraordinary opportunity of performing on the Steinway piano that was the personal instrument of the 20th century's premier pianist, Vladimir Horowitz. In this video, Christopher Harding, associate professor of music, and Robert Grijalva, assistant professor of music, discuss the instrument's significance.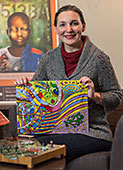 Faculty/Staff Spotlight
"The things we're able to do at the university have a meaningful impact on so many different lives." 
Ashley Lucas, associate professor of theatre and drama, and the Residential College, and director of the Prison Creative Arts Project.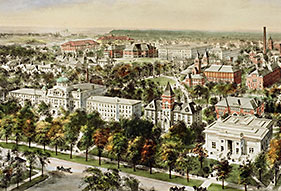 Michigan in the News
"The health of rural America is failing, and a repeal of the Affordable Care Act without adequate replacement could prove disastrous. … It will result in a sudden decrease of the insured rates, leading to a dramatic increase in uncompensated care, which will likely drive further rural hospital closures," wrote Margaret Greenwood-Ericksen, clinical lecturer in emergency medicine, and Mahshid Abir, assistant professor of emergency medicine.
A study by Tudor Borza, clinical lecturer in urology, found that the number of older Americans treated for prostate cancer plummeted 42 percent since health officials began questioning the benefits of screening tests.
"Imagine the challenge of identifying a specific person based only on their height and weight. That's essentially the challenge we face with current techniques. Imagine how much easier it would be with additional descriptors like gender, hair color and clothing," said David Sept, professor of biomedical engineering, about the benefits of a new "5-D fingerprinting" process.