Impressions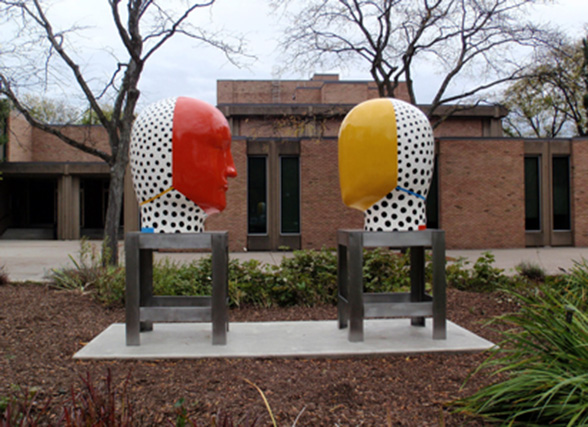 A gift of alumnus Clarence L. Roy and his wife, Ruth, this painted bronze and stainless steel sculpture by Jun Kaneko sits in front of the Earl V. Moore Building on North Campus. The Record periodically highlights pieces of public art at U-M. Learn more about this piece, or browse an online collection of public artworks.
Honoring staff's role in diversity
Ten individuals and five teams received the 10th annual Distinguished Diversity Leaders Award​​​​​​ on Monday. This video highlights the 10-year history of the DDLA and explains how it was established to shine a light on those staff members who work toward achieving a welcoming, supportive and inclusive working environment at U-M.
Faculty meet with President Schlissel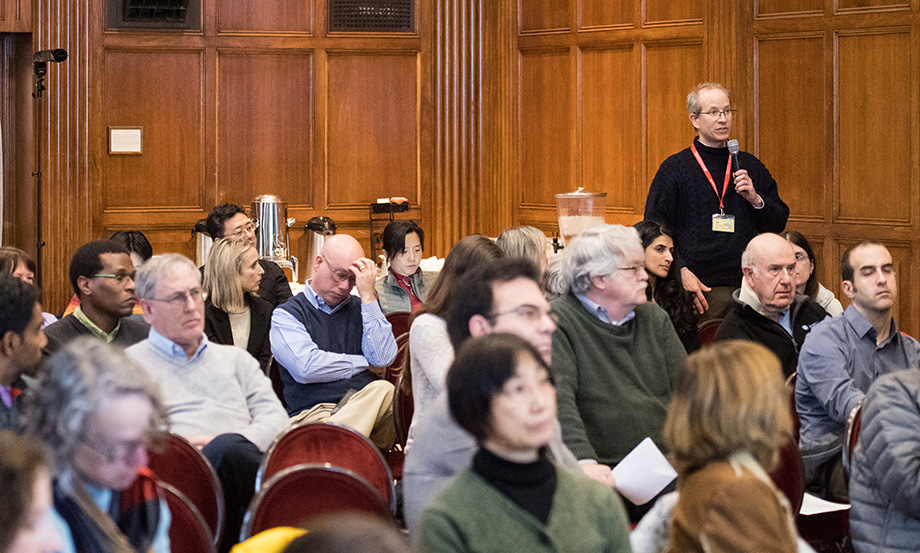 Donald Likosky, associate professor of cardiac surgery, poses a question for President Mark Schlissel at Monday's joint meeting of the Faculty Senate and Senate Assembly. Around 50 faculty members attended the meeting in the Michigan League's Vandenberg Room, where Schlissel discussed how U-M is tackling societal challenges and charting its path forward. He touched on topics that included the impact of the Go Blue Guarantee financial aid promise; diversity, equity and inclusion efforts; interdisciplinary university initiatives to address societal challenges; and a proposed commission to help U-M map its pathway to carbon neutrality. He also addressed U-M's efforts to address sexual misconduct, including a new policy that will prohibit faculty members from having romantic or sexual relationships with undergraduate students. (Photo by Austin Thomason, Michigan Photography)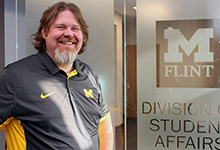 Faculty/Staff Spotlight
"Every student, every situation is unique. My priority is to empower our students to self-advocate."
Harvey "Chip" Evans, disability services coordinator for UM-Flint.
Michigan in the News
"While 95 percent of the conductors are men, if some of them aren't great, that doesn't affect the entire perception of the male conductor. If even some of us are out there, and we're not excelling, and not achieving, and not doing the best we can, it'd be so easy for us to slide down the slope of 'Oh well, women conductors are — they're a novelty,'" said Chelsea Gallo, doctoral student in musical arts and cover conductor of the Detroit Symphony Orchestra.
"Hospitals are absolutely marking up the prices for medical devices," said Jeffrey McCullough, associate professor of health management and policy. But, he added, "You can almost guarantee the list price you see on a hospital bill is not what the hospital is getting paid by insurance companies," which bargain for discounts.
"You do have this irony, and that is the policy that is overwhelmingly endorsed by economists of the right, the center and the left as the best way to reduce greenhouse gas emissions is inverse with what is politically feasible," said Barry Rabe, professor of public policy, environment and political science.