Smart wearables
Simple, wearable sensing technology can give seniors a louder voice in identifying stressors in their physical environment and arm communities with information to help address infrastructure needs. In this video, U-M researchers and students discuss how they're putting those sensors to work with residents of an Ypsilanti senior center to gauge the technology's effectiveness.
Super Abbu
Pakistan ranks among the worst in the world for infant and maternal mortality with 52 deaths per 1,000 live births. To change this, Mustafa Naseem, clinical assistant professor of information, wants to bring information about pregnancy and child care directly to fathers. In this video, he discusses his Super Abbu project, a public phone service in Pakistan that aims to improve infant and maternal health outcomes through educating fathers on pregnancy and child care.
Public engagement honorees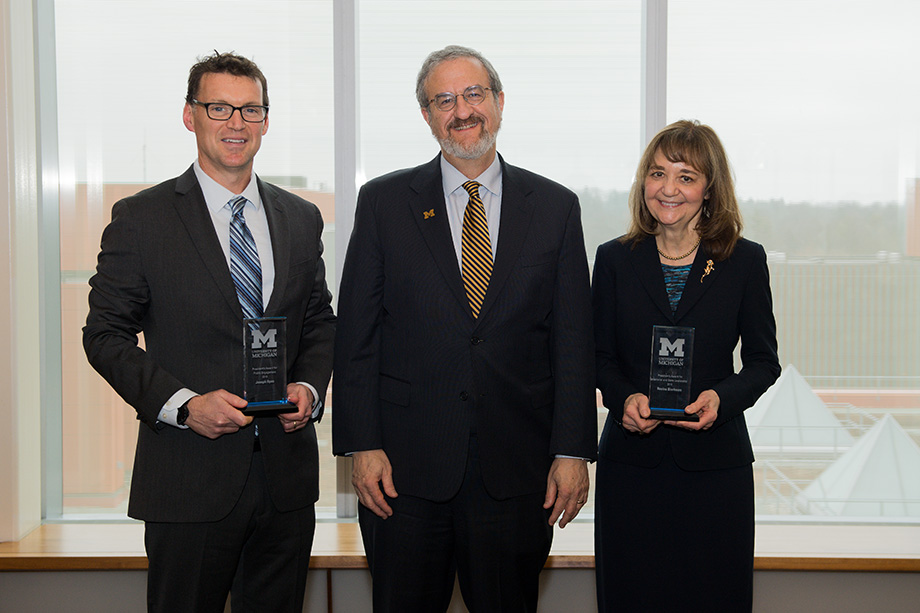 President Mark Schlissel presented this year's President's Awards for Public Engagement at an event Thursday. Joseph Ryan, professor in the School of Social Work, received the President's Award for Public Impact. Rosina Bierbaum, professor in the School for Environment and Sustainability, received the President's Award for National and State Leadership. The event also featured a panel discussion on how to encourage more faculty to make an impact by sharing their knowledge outside academia. (Photo by Daryl Marshke, Michigan Photography)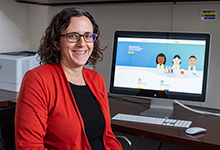 Faculty/Staff Spotlight
"The first time I became aware that I was a woman in science was in graduate school. … I ran into a lot of 'guy culture.'"
Anne McNeil, professor of chemistry and creator of Diversify Chemistry, which helps people find individuals from historically underrepresented backgrounds in chemistry
Michigan in the News
"Those who have the highest rates of postpartum depression and who would benefit the most, I fear it will be limited access to them," said Maria Muzik, associate professor of psychiatry, and obstetrics and gynecology, referring to a new drug for postpartum depression — a condition more common among women from lower socioeconomic groups.
"Wealth cannot purchase innate talent. But it can provide access to elite — and less competitive — sports and activities. ... It can provide better coaching, counseling, stronger familial support. As a result, students from wealthy families are much more likely to get into elite colleges — not through cheating, but through the selective back door available primarily to those from wealth," said Scott Page, professor of complex systems, economics, and political science.
Under its personal conduct policy, the NFL will likely investigate New England Patriots owner Robert Kraft, even if he's not legally charged with prostitution solicitation at a Florida spa, says Marissa Pollick, lecturer in sport management at the School of Kinesiology: "I would think the NFL would not want to be perceived as rendering special treatment" to Kraft by forgoing an investigation.