Graduate gratitude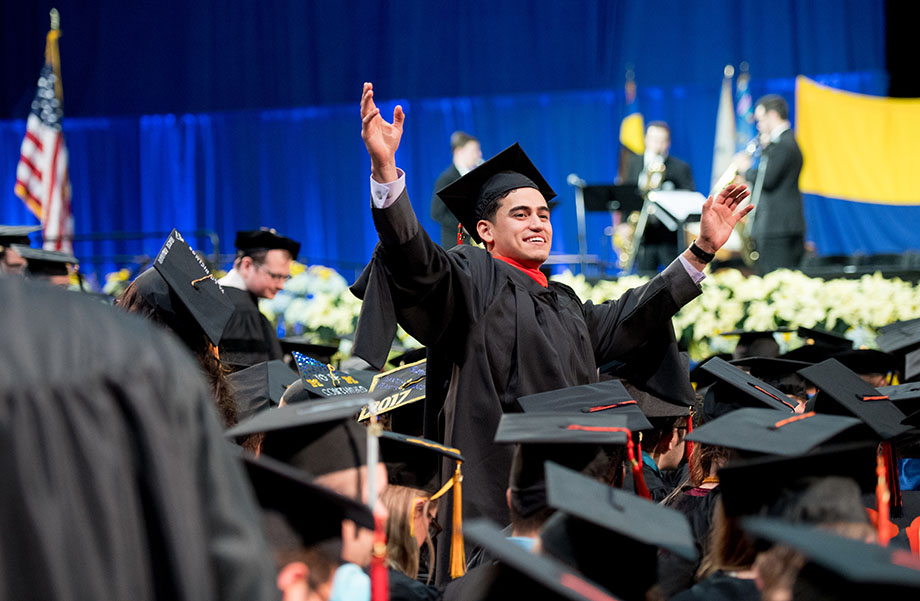 Giancarlo Mayor, who received a master's degree in aerospace engineering, waves to his family during Winter Commencement on Sunday at Crisler Center. The ceremony, which also featured the awarding of 10 Bicentennial Alumni Awards, was the final bicentennial event of the university's 200th year. (Photo by Eric Bronson, Michigan Photography)
Creating lasting, impactful change
As the university ends the fall semester, it looks back on the first year of its Strategic Plan for Diversity, Equity and Inclusion and ahead to how it will work to achieve the goals that remain. In this video, students, faculty members and campus DEI leaders share their observations on plan's first year and the ideas put forth during November's DEI Summit.
Professional consult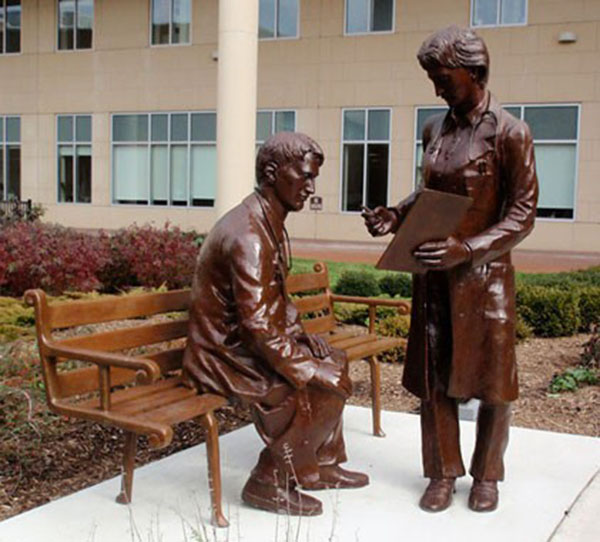 This untitled bronze sculpture by Yitzhak Assour represents two physicians deeply involved in conversation about a patient and is intended to express the earnestness and collaborative nature of their work. Located in the courtyard on west side of the Frankel Cardiovascular Center, it is a gift from D. Dan and Betty Kahn. The Record periodically highlights pieces of public art at U-M. Learn more about this piece, or browse an online collection of public artworks.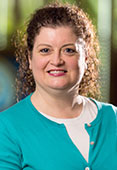 Faculty/Staff Spotlight
"A librarian is someone who facilitates critical thinking about information. We aren't the be-all end-all of answering questions. However, we can help reveal questions you might not have considered before."
Jo Angela Oehrli, senior associate learning librarian and children's literature librarian at the University Library
Michigan in the News
"There is this myth that if you are really being harassed or assaulted, you will get angry and get the hell out of there. People say: Why didn't she just report him? Why didn't she just leave? They don't understand all the complicated reasons why leaving is not an option," says Lilia Cortina, professor of psychology and women's studies.
Arul Chinnaiyan, professor of pathology and urology and director of the Michigan Center for Translational Pathology, and colleagues discovered a novel gene named "THOR" that could be the ultimate weapon to fight cancer.
Michelle Riba, professor of psychiatry, and Ricks Warren, clinical associate professor of psychiatry, provided tips on ways they cope with holiday stress.