Speaking on diversity
Martha Jones, Arthur F. Thurnau Professor, professor of history and Afroamerican and African studies; and co-director Michigan Law Program in Race, Law & History, explores the role faculty play in creating a diverse, inclusive and equitable U-M. This video is part of a series — presented periodically throughout the summer — designed to engage the campus community in the Diversity, Equity and Inclusion initiative President Mark Schlissel announced in November 2015. View the full series on the Diversity, Equity and Inclusion playlist.
Insta-grad!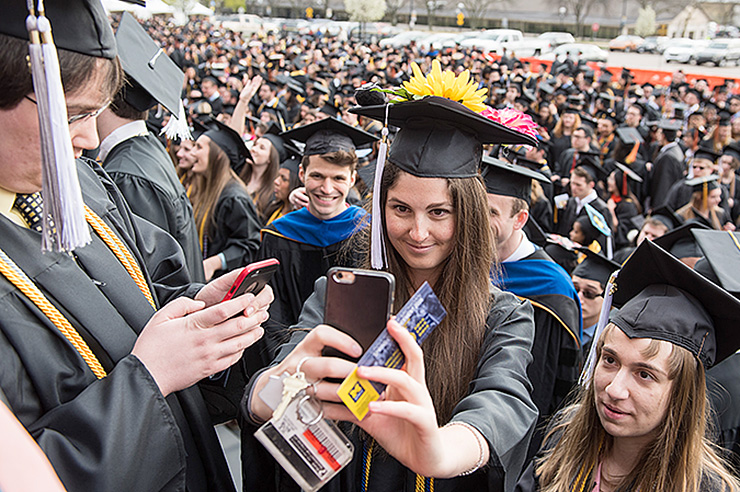 A graduate captures a selfie with hundreds of her fellow graduates in the background as they prepare to enter Michigan Stadium before Saturday's Spring Commencement ceremony. (Photo by Scott C. Soderberg, Michigan Photography)
Lie detecting software
By studying videos from high-stakes court cases, U-M researchers are building unique lie-detecting software based on real-world data. In this video, Rada Mihalcea, professor of computer science and engineering, and Mihai Burzo, assistant professor of mechanical engineering at UM-Flint, discuss the applications for their prototype software that considers both the speaker's words and gestures, and unlike a polygraph, it doesn't need to touch the subject in order to work.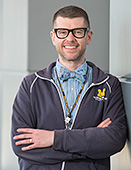 Faculty/Staff Spotlight
"Research is such an integral part of our institute and university and I'm proud to be a significant player."
Todd Brown, contract and grant specialist at the Life Sciences Institute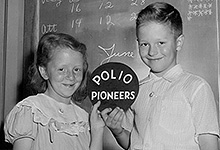 Michigan in the News
"We have tremendous adaptation opportunities … so that we don't need to be victims of those climate change impacts when they come down the line," said Elizabeth Gibbons, program manager at the Great Lakes Integrated Sciences and Assessments Center.
Alec Gallimore, professor of aerospace engineering and the new dean of the College of Engineering beginning this July, was the subject of a feature story on his impending deanship.
Research by Joseph Arvai, professor and director of the Erb Institute for Global Sustainable Enterprise, indicates that people who understand climate change is largely caused by human activity are more likely to be concerned about climate change and its effects.