'They're Not So Fragile'
One reason Jacqueline Kaufman, associate professor of physical medicine and rehabilitation, started a hockey team for kids with cerebral palsy, autism, ADHD and other conditions was to prove "they're not so fragile." In this video, Kaufman explains how she was motivated to create the team and how it helps its young members.
Global Graffiti & Mural Project
During 2016-17, international artists were brought to Ann Arbor to paint public murals and to engage with the campus and larger community, offering a global perspective on public art. In this video, Amanda Krugliak, assistant director of arts programming at the Institute for the Humanities, and Artemis Leontis, professor of modern Greek, discuss the work of artists Cacao Rocks and Olga Alexopoulou. A second video, explores the work of Iranian artist Mehdi Ghadyanloo.
Revolutionary surgical tool
U-M startup FlexDex Surgical's first product — a simple, ergonomic and intuitive "needle driver" for stitching inside the body — has been used for the first time in a series of operations. In this video, FlexDex co-founders Shorya Awtar, associate professor of mechanical engineering, and James Geiger, professor of surgery, describe the mechanical platform that mounts to a surgeon's arm. It enables the tip of the instrument to mimic the direction of movement of the surgeon's hand.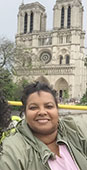 Faculty/Staff Spotlight
"Great institutions don't become great institutions without great staff."
Janice Reuben, senior associate for programs and outreach for the Center for the Education of Women.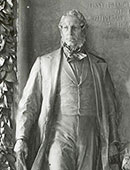 Michigan in the News
"Our findings suggest that information control in China is more varied and decentralized than we thought. … China's ability to control information is impressive, but decentralization makes the system hard to tightly control," wrote Mary Gallagher, professor of political science, and Blake Miller, doctoral student in political science.
The use of fake progress bars on apps and websites that trick users into trusting the system is a useful, beneficial tool if deployed correctly, says Eytan Adar, associate professor of information, and electrical engineering and computer science.
Peter Ho Davies, professor of English language and literature, was interviewed about his new book, "The Fortunes," which offers four linked stories that explore what it means to be Chinese in America.