International education award
As director of international study programs at the Penny W. Stamps School of Art and Design, Sandra Wiley has been recognized with this year's President's Award for Distinguished Service in International Education, recognizing the extraordinary efforts of U-M faculty and staff who keep the university on the leading edge of international education. In this video, Wiley talks about the the international experience of Stamps School students.
Preventing airborne disease
Dangerous airborne viruses are rendered harmless on the fly when exposed to energetic, charged fragments of air molecules, U-M researchers have shown. In this video, team leader Herek Clack, research associate professor in civil and environmental engineering, explains how a prototype device designed to filter the air from a pig farm can inactivate airborne pathogens to prevent the spread of disease.
SPH Service Day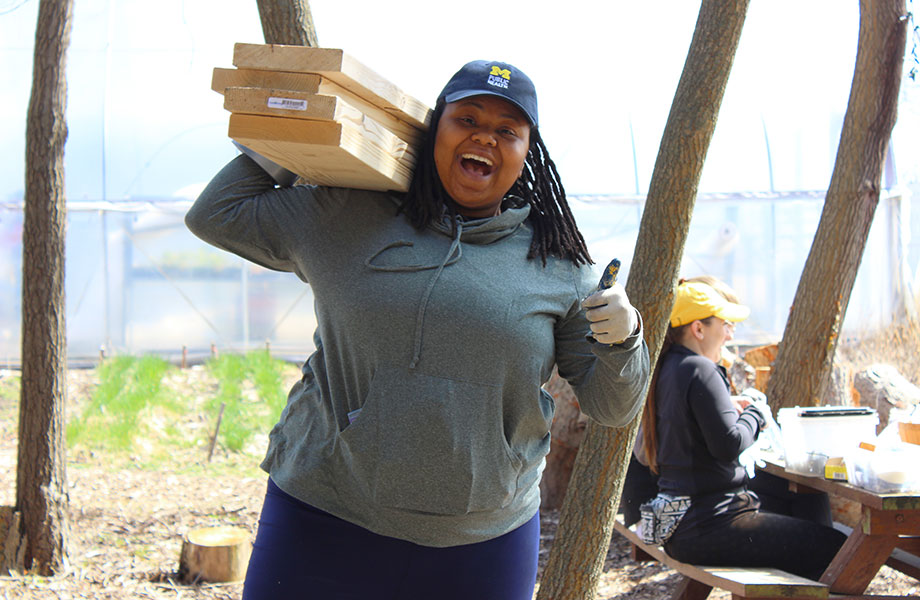 Chanese Forté, a doctoral student in the School of Public Health's Department of Environmental Health Sciences, carries lumber while volunteering at the Growing Hope Urban Farm in Ypsilanti on April 13. She and other volunteers did gardening and grounds work at the farm, part of SPH's annual Service Day in which 175 students, faculty, staff and alumni volunteered at 10 locations throughout southeast Michigan. (Photo by Eric Zanotti, School of Public Health)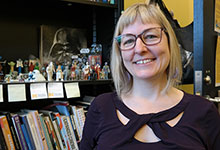 Faculty/Staff Spotlight
"It's part of our nature to visually suss each other out. We try not to, but we do it all the time."
Jen Proctor, an associate professor of journalism and screen studies at UM-Dearborn, who has created the film "Am I Pretty?"
Michigan in the News
"We (should) acknowledge that they are doing something but it remains not enough and not effective at stemming the tide of malicious behavior that happens on Twitter," said Libby Hemphill, associate professor of information, on Twitter's claims that it's getting better at finding and removing abusive tweets.
A floating city concept to cope with climate change, put forth by startup Oceanix, earns cautious praise from Geoffrey Thün, associate professor of architecture: "(It) offers an ideal model for how we should be thinking about the metabolism of our cities … but they seem to exclude much of the gritty realities of complex urban life."
Research by Elizabeth Bruch, associate professor of sociology and complex systems, and Mark E. Newman, professor of physics and complex systems, shows that single men and women search for an online dating match close to where they live: "Whether or not the influence of geography is exacerbated by the setup of online dating sites, however, depends on how local dating is to begin with. My sense from cell-phone studies of routine activity is that people typically stay within a given urban area, which suggests that offline dating is also fairly local," Bruch said.