Report outlines first year of diversity, equity and inclusion progress
The University of Michigan has made significant strides and achieved crucial accomplishments in the past year toward its goal to enhance diversity, equity and inclusion, U-M leaders announced Wednesday.
University officials unveiled the first-year progress report for U-M's five-year Strategic Plan for Diversity, Equity and Inclusion during a community assembly and panel discussion Wednesday at Rackham Auditorium.
+ more information
+ related article
While significant accomplishments occurred both in universitywide and unit-based plans — laying the critical foundation for future efforts — university leaders acknowledged much work lies ahead to achieve U-M's institutional DEI goals.
"Ideas proposed by members of our community are becoming actions and programs," President Mark Schlissel said.
"We've incorporated diversity, equity and inclusion into our activities, operation and mission. And we've tailored efforts to address the challenges we face both from inside and outside our campus. Despite this initial progress, we know we have much further to go.
"We are not yet near where we want or need to be as we strive for a more diverse, more equitable and more inclusive academic community."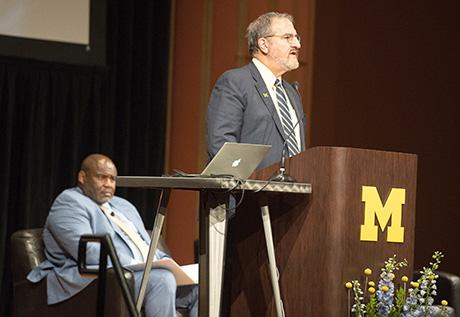 President Mark Schlissel speaks at Wednesday's community assembly as Chief Diversity Officer Robert Sellers looks on. (Photo by Eric Bronson, Michigan Photography)
The goals, as outlined in the plan, involve increasing:
• Diversity in myriad forms, from race and ethnicity to religious commitments and political perspective.
• Equity, by working to challenge and respond to bias, harassment and discrimination.
• Inclusion, by pursuing deliberate efforts to ensure the campus is a place where differences are welcomed, perspectives are respectfully heard, and everyone feels a sense of belonging.
The plan also lists three overarching strategies to achieve these goals: creating an inclusive and equitable campus climate; supporting innovative and inclusive scholarship, teaching and recruiting; and retaining and developing a diverse community.
"I am pleased at how far we have come in this past year," Robert Sellers, vice provost for equity and inclusion and chief diversity officer, wrote in his cover letter for the report. "Together, we have made significant progress in laying the foundational infrastructure for long-term institutional change."
With implementation of the strategic plan underway, funding and progress for DEI efforts are part of the university's annual budget process, and DEI professional development programs are in place for executive units, schools and colleges.
So far, each of the 34 university-level action items in the DEI plan have either been implemented or are in progress.
The plan's initial year has also allowed the university to track individual unit actions that aim to improve diversity, equity and inclusion. To date, 85 percent of these plans have either been implemented or are in progress.
During the first year of plan implementation, the university established a central Office for Diversity, Equity & Inclusion to assist all units in achieving their DEI goals, and dedicated diversity professionals were added in schools, colleges and units.
LSA launched the Collegiate Postdoctoral Fellowship Program, which focuses on recruiting and retaining early-career scholars, and supports exceptional researchers committed to building a diverse intellectual community.
Other significant accomplishments included initiating a large-scale DEI training endeavor across campus, conducting the first universitywide campus climate survey, and implementing the Intercultural Development Inventory pilot among undergraduates to target the development of student diversity skills.
The university also launched the Go Blue Guarantee, which offers free tuition for four years to in-state students from families with an annual income up to $65,000.
To support innovative DEI scholarship, teaching and service, the Center for Research on Learning and Teaching has worked with each school and college to provide school-specific and general programming to help educators gain more tools to effectively teach in diverse classrooms.
"Through our DEI plan, we've committed to the honest self-examination we will need to become better," Schlissel said. "We've embraced new levels of accountability and we've accepted the challenge and the responsibility as students and educators at a public university and as members of a pluralistic and free society to create a better University of Michigan for all."