Alumni address how U-M experiences impacted their lives
Four University of Michigan alumni recounted how the university and their social identities shaped their lives, and gave advice to U-M community members advocating for change, during the 2017 Diversity, Equity & Inclusion Summit.
The panel discussion was part of a community gathering Wednesday at Rackham Auditorium, where university leaders also presented a progress report about the initial year of DEI strategic plan implementation.
The panel, consisting of four U-M Bicentennial Alumni Award recipients, included:
• Tonya Allen, president and chief operating officer of The Skillman Foundation.
• Rebecca Alexander, a psychotherapist, author, extreme athlete and disability advocate.
• Carla Dirlikov Canales, a singer, entrepreneur and arts advocate.
• Damon A. Williams, chief catalyst for the Center for Strategic Diversity Leadership & Social Innovation, and a senior scholar and innovation fellow at the University of Wisconsin-Madison.
The panel was moderated by Marie Ting, associate director for U-M's National Center for Institutional Diversity.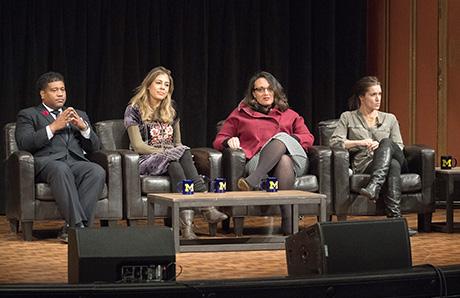 From left, U-M Bicentennial Alumni Award recipients Damon A. Williams, Carla Dirlikov Canales, Tonya Allen and Rebecca Alexander discuss how their experiences at U-M shaped their lives. (Photo by Eric Bronson, Michigan Photography)
In describing the words that would encapsulate their university experiences, panelists spoke of the positive impact of diversity, supportive mentors, the warmth of the university community and U-M's historical central position amid important discussions about race, identity and diversity.
As an African-American woman, Allen said what she learned at U-M that influenced the way she thinks about her identity is the notion of invisibility and hypervisibility.
"If you do things that are not expected of you, there is hypervisibility, and that hypervisibility in some cases can be very positive but it also can be very negative," Allen said, adding that is what members of underrepresented groups will sometimes experience.
She said understanding that phenomenon and seeing it play out in her own life and the lives of others drives the work she does today.
"It is clear to me that we have to call out hypervisibility, especially when that hypervisibility creates inequities in the way that we treat people," Allen said.
Alexander said one of the most important lessons she learned during her time at U-M was the importance of advocacy, not just for others but for one's self.
She said those living with disabilities and people in other marginalized positions can often feel a sense of shame, a lack of self-worth or a feeling that what they want or need is unreasonable.
"Over time, I learned, particularly as a disability rights advocate, that I'm not asking for something that's a privilege. I am asking for something that is my right," Alexander said.
In light of recent bias incidents that took place against communities of color this fall on campus, Ting asked the panelists what advice they would give to students, faculty, staff and alumni who are advocating for change.
Canales said she really believes in the idea of being the change you want to see in the world.
"Leading by example is perhaps the hardest way to go about it, but the most noble in my mind," Canales said. "I actually believe that music has the ability to change the world. I believe that because music can be the conduit to open the imagination, and it's through the imagination that we have the capacity to redefine what the world might be like."
Williams said to go where we need to go in DEI work, we have to poke the box and ask how can we innovate.
"Diversity issues never move, ever, absent courage," he said.