Provost's Seminar focuses on interprofessional learning experiences
University of Michigan faculty and staff explored the benefits and challenges of creating interprofessional learning experiences on campus at the Provost's Seminar on Teaching.
Faculty and staff from across the campus gathered Tuesday in the Michigan League Ballroom for the seminar, "Building Structures That Encourage Interprofessional Education." It was organized by the Provost's Office and the Center for Research on Learning and Teaching.
Attendees first learned about four university programs centering on interprofessional education — educational experiences that bring together students from a wide array of disciplines to use their expertise to work on a project or solve a problem, CRLT Director of Assessment Malinda Matney said.
James Holloway, vice provost for global engagement and interdisciplinary academic affairs, said interprofessional education gives students the opportunity to experience Michigan's great strength across its many disciplines.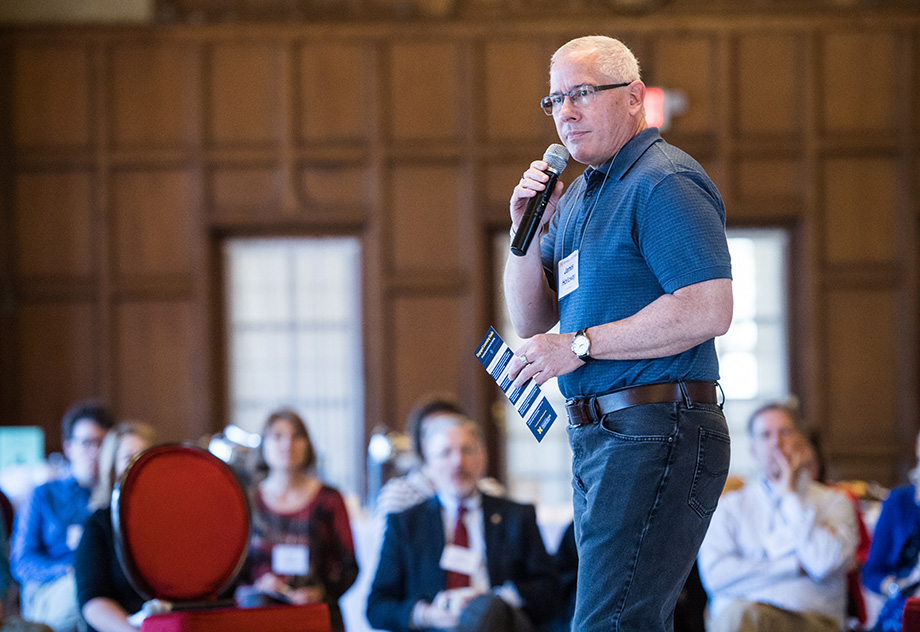 James Holloway, vice provost for global engagement and interdisciplinary academic affairs, discussed U-M programs that bring students from a wide range of disciplines together to work on projects and solve problems. (Photo by Austin Thomason, Michigan Photography)
Holloway said these learning experiences also prepare students for when they leave the university and tackle society's most pressing issues.
"They're going to work across disciplinary boundaries, they're going to work with others who are very different from themselves," said Holloway, an Arthur F. Thurnau Professor and professor of nuclear engineering and radiological sciences, College of Engineering.
"They won't work entirely and solely within their discipline because no one discipline has the breadth of understanding to develop solutions to the challenges that face human communities."
Initiatives highlighted at the seminar included:
• The Michigan Center for Interprofessional Education, a coordinating center that promotes collaboration across the health science schools and colleges for interprofessional education and collaborative care efforts at U-M.
• The Law School's Problem Solving Initiative, which brings together students from across campus to solve societal problems, with previous topics including automated vehicles, and supporting and identifying victims of human trafficking.
• Multidisciplinary Design Program, a College of Engineering-based program that allows students to work on a variety of long-term projects, including those sponsored by external partners, faculty research projects and student organization projects.
• Michigan Engaging Community through the Classroom, which brings multidisciplinary teams together to work on stakeholder-based community engagement efforts.
Representatives from each program discussed how their initiatives enhance student learning in a variety of ways, including helping budding health care professionals understand how to work in teams, and providing the opportunity for students to be professionally vulnerable, take risks and fail in a safe setting.
They also discussed the challenges of facilitating interprofessional programs, such as overcoming institutional barriers like coordinating student registration across schools and fitting project timelines into one semester. Finding faculty who will stay engaged for the duration of a project or who can step outside of their traditional teaching patterns to co-teach or learn from their students is also a challenge, the presenters said.
Holloway said given the growth of interprofessional and interdisciplinary initiatives on campus, the university will convene a small group of leaders from these programs this summer for further discussion.
"I think we are going to see more growth in this kind of education and these kinds of opportunities for our students and faculty, and so we need to think about how to make it easier, make it smoother, to engage in this," he said.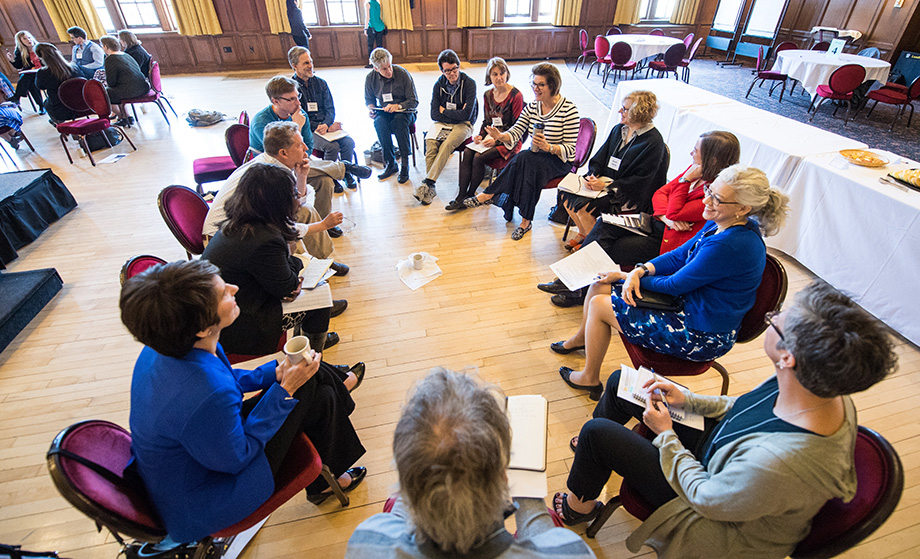 Faculty and staff broke out into groups to reflect on presentations given by those leading interprofessional education initiatives on campus. (Photo by Austin Thomason, Michigan Photography)
Campus Farm Program Manager Jeremy Moghtader attended the seminar and previously co-taught a Law School Problem Solving Initiative course that focused on increasing local food consumption. He said his course drew students from a wide range of schools, including the School of Social Work, School of Public Health, the College of Engineering and the School for Environment and Sustainability.
Moghtader said he views interprofessional education as an integral component of a Michigan education. Instead of defining themselves solely within the confines of their disciplines, he said students, especially those seeking professional degrees, should learn they're at the university to gain the skills of those disciplines, which then serve as tools to create change.
"They need to be able to understand their skill has a role to play but it can only be its best when it's being played in concert with other disciplines," Moghtader said.