David Fleisher
David Fleisher, associate professor of pharmaceutical sciences at the School of Pharmacy, died Jan. 7 at his home in Ann Arbor after a long battle with lymphoma. He was 61.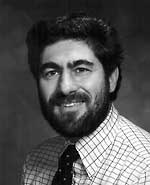 Born in Rochester, N.Y., Fleisher earned a bachelor of science in pharmacy from the The State University of New York (SUNY) at Buffalo in 1967; worked as a staff pharmacist at Children's Hospital in Buffalo for several years; and then as a staff pharmacist at Strong Memorial Hospital in Rochester, N.Y. for several more.
While living and working in Rochester in 1997 Fleisher earned a master of science in applied mathematics from the University of Rochester. He and his family then relocated to Madison, Wis., where in 1983 he earned his doctorate in pharmaceutics from the University of Wisconsin.
Fleisher came to U-M in 1983 at the urging of former SUNY classmate and roommate Gordon Amidon, the pharmacy college's current Charles R. Walgreen Professor of Pharmaceutical Sciences. His first post was research scientist. Two years later he was promoted to assistant professor of pharmaceutics, and in 1992 was made associate professor of pharmaceutics.
Fleisher's research interests included general food effects on drug plasma levels; specific nutrient effects on drug absorption; drug-nutrient and drug-drug interactions; local drug delivery to inflamed bowel tissue; disease-state effects on drug absorption; intestinal metabolism and export of drugs; and general pharmaceutical transport phenomena.
He also taught a wide range of graduate and undergraduate courses, from introductory mathematics to physical pharmacy; drug delivery to advanced pharmaceutical transport phenomena; pharmaceutical chemical kinetics to pharmacokinetics and biopharmaceutics.
"David was a respected researcher, versatile academic and dedicated citizen of the college," says Dean Frank Ascione. "But he will best be remembered for his innate kindness, passion for life, and remarkable capacity to inspire innovation and achievement in professional, graduate and postgraduate students, and research fellows. These same students now carry on his legacy in every area of the world where pharmacy is practiced.
"The college not only lost a respected scientist and educator, but future students will not be exposed to this very kind man who was generous to all he met."
Lilian Li, a former graduate student of Fleisher's who received her doctorate from the College of Pharmacy in 2001, remembers him fondly.
"David was the kindest person I've ever known," says Li, a senior research investigator, clinical discovery, at Bristol-Myers Squibb Co.'s Pharmaceutical Research Institute in Princeton, N.J. "He had an incisive scientific mind combined with a wonderful, self-depreciating sense of humor. His generosity and good spirit touched everyone he met, and his compassion and humanity were unshakeable even in the most difficult circumstances
"He changed my life in ways that reached far beyond the lessons I learned in the lab or in the classroom."
Fleisher is survived by his parents; wife, Barbra Stewart; four children, Laurie, Lisa, Lucas and Cybil; sisters, Leslie and Elaine; brother, Dennis; several grandchildren, nieces and nephews; and countless friends and colleagues.
A memorial service was scheduled for Jan. 14 at the Muehlig Funeral Chapel in Ann Arbor. His family requests that memorial gifts may be made to livestrong.org.
Joan Barth
Joan Barth, editor at the School of Dentistry from 1979-85, died Dec. 31 in Ann Arbor. She was 83.
Barth received a bachelor's degree from Oberlin College in 1944 and came to Ann Arbor in the mid-1970s. She joined the School of Dentistry from the U-M Mental Health Research Institute where, she held various positions, including managing editor of the academic journal Behavioral Science and managing editor of the Journal of Biological Psychology.
From 1967-72, she was chief editor of a curriculum project sponsored by the American Sociological Association, which published 56 high school textbooks in sociology.
From 1979-85, Barth was the School of Dentistry's information officer and editor of its alumni magazine, Alumni News. She also wrote the school's weekly newspaper and penned various brochures, news releases and other informational materials.
Friends and family say Barth was an intellectually curious person; a diligent reader and movie viewer; a thoughtful discussant, writer and editor; and an avid traveler to France, Greece, Brazil, Panama and China, among other destinations.
She was an attendee at Quaker meetings and a courteous docent at the Clements Library. In recent years she attended many University "Learning in Retirement" lectures.
Survivors include her daughter, Anne Storms of Salt Lake City; brother, William Wolf of Greenfield, Ind.; sister, Marian Thoms of Whittier, Calif., and many nieces and nephews. A sister, Virginia, preceded her in death.
A celebration of life will be held Jan. 26 at Glacier Hills Retirement Community. Graveside services will be held Jan. 28 in Morristown, Ind. In lieu of flowers, memorial donations may be made to the Society of Friends, Ann Arbor Meeting, 1420 Hill St., Ann Arbor, MI, 48104.
—Submitted by Jerry Mastey, School of Dentistry; additional information provided by Record staff.
Tags: