As the University of Michigan prepares to launch a yearlong celebration of its 200th year, the Record presents a comprehensive roundup of bicentennial activities ranging from colloquia to exhibits to spring, summer and fall festivals.
The university is creating a special Bicentennial Alumni Award for its 200th year, honoring 20 people who embody the breadth and excellence of its more recent alumni.
​The U-M of tomorrow and yesteryear will intersect in very public ways as the bicentennial kicks off in January 2017 with the first Presidential Bicentennial Colloquium featuring leading jurists from two of the world's largest democracies.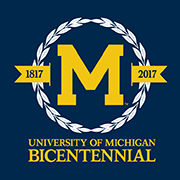 The leaders of many of the most prestigious universities in the world will convene during U-M's bicentennial year to discuss and debate the public mission — and the public's support — of research universities.
How will U-M look and function in 2067? That is for today's community to envision as part of the university's bicentennial celebration.
To celebrate the university's 200th birthday, LSA will dedicate its winter and fall 2017 semesters to exploring the history and future of U-M through its people and their impact on the world.
Two centuries after its founding in Detroit, the university will celebrate its birthplace with a variety of bicentennial activities throughout 2017.
James Earl Jones, Darren Criss and Cecilia Muñoz are among the distinguished alumni who will join U-M students and faculty in "True Blue! A Tribute to Michigan," a live multimedia performance celebrating Michigan's 200 years.
Groups across the campus are planning bicentennial events of all styles and formats, from dance and art to photo exhibitions, scholarly colloquia and national conferences.
Maize-and-blue merchandise that promotes U-M's first 200 years will help support students enrolled in Michigan's third century of teaching and research.
Schedule of events.
The longtime contributions of U-M staff will be the focus of the UMich200 Summer Festival, complemented by the long-running Ann Arbor Summer Festival and its eclectic programming.
The Third Century Expo will be U-M's bicentennial finale, blanketing the heart of Central Campus during the UMich200 Fall Festival.
Schedule of events.
Serving the People, Teaching Powerfully, Pursuing Ideas, Creating and Inventing, Challenging Society, and Forever Hailing
Learn more about the U-M bicentennial and the history of the university.