James Earl Jones, Darren Criss, Sanjay Gupta and Cecilia Muñoz are among the distinguished alumni who will join U-M students and faculty in a live multimedia performance celebrating Michigan's 200 years.
Related Articles
At a glance
"True Blue! A Tribute to Michigan" will highlight the UMich200 Spring Festival, the first of four bicentennial celebrations planned for 2017. Emmy Award winner Margo Martindale, former U.S. Surgeon General Antonia Novello, and Jeffrey Seller, Tony Award-winning producer of "Hamilton," "Rent" and "Avenue Q," also are among the alumni to be featured in the Hill Auditorium show.
"We are thrilled that so many prominent graduates of Michigan are returning to help tell the university's story in a unique and entertaining way," said Priscilla Lindsay, professor and chair of the Department of Theatre & Drama and artistic director of the show. "In addition to being a magnificent opportunity for audience members, the show is a once-in-a-lifetime event for our faculty and students who also will be on stage."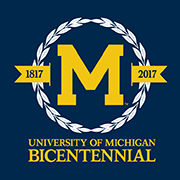 Longtime favorites the RFD Boys, who have performed together since they were U-M students in 1969, will be one of several musical acts.
Jones is a 1955 graduate whose acting resume stretches from Broadway to Hollywood. He earned Tony Awards for his lead roles in "The Great White Hope" and "Fences," several Emmy Awards, and a Life Achievement Award from the Screen Actors Guild. The True Blue! show will be the first time he has performed on a U-M stage since he was a student.
Jones' film credits range from "Dr. Strangelove" and "The Hunt for Red October" to "Malcolm X" and "Field of Dreams." Just as distinctive as his acting is Jones' sonorous baritone, a voice associated with Darth Vader of "Stars Wars" films, Mufasa of "The Lion King" and the voiceover tagline of CNN.
Criss is a 2009 graduate who rose to fame on the hit TV show, "Glee," where he portrayed an openly gay student and singer. He is currently starring in a national tour of the musical "Hedwig & The Angry Inch." He has also played J. Pierpont Finch in "How to Succeed in Business Without Really Trying" on Broadway.
Gupta holds both U-M undergraduate and medical degrees and is recognized globally as CNN's chief medical correspondent. He is associate chief of neurosurgery at Grady Memorial Hospital and a faculty member at the Emory University School of Medicine. He regularly performs surgery at Emory and Grady hospitals. He delivered the commencement address at Michigan Stadium in 2012.
Muñoz, who graduated in 1984, is director of the White House Domestic Policy Council. A Detroit native, she received a prestigious MacArthur Fellowship, also known as a "genius grant," in 2000 for her work in immigration and civil rights policy. She has devoted much of her career to leadership roles with the National Council of La Raza, the nation's largest Latino civil rights organization.
Editor's Note: This story has been edited from its original version to add new information.
Tags: