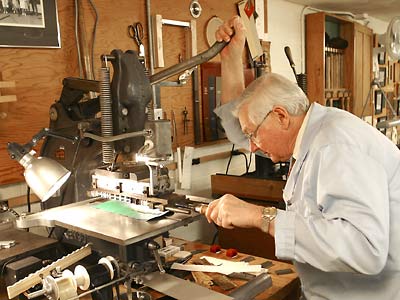 Once he passed a phase during which he aspired to be a professional singer, James Craven knew at a young age that he wanted to be a bookbinder.
"My father was a bookbinder, and I was interested in the work," says Craven, document restoration specialist and book conservator at the Bentley Historical Library. "In fifth grade, I enjoyed a bookbinding project our teacher, Miss Evans, had the class do," Craven says.
A member of the University community since 1949, Craven has worked in his current position for 30 years. He started as a bookbinding apprentice as a teenager and became a journeyman bookbinder on completion of the apprenticeship. From there, Craven became supervisor of library binding, a post he held for 10 years before assuming his current position. "Over the years, the University has become larger and less parochial," Craven says. "The Bentley Historical Library, as well as others on campus, now operate on a worldwide basis."
Craven works for four rare book repositories on the U-M campus: the Bentley Historical Library, the William L. Clements Library, the Rare Books and Special Collections Library of the Harlan Hatcher Graduate Library, and the Rare Books Room of the Law Library. "I do hands-on conservation of the materials they select for me to work on, ranging in age from fairly modern up to about 500 years old," Craven says. He also lectures, consults and does one-on-one teaching of students.
A native of Ann Arbor, Craven has lived in the city his entire life except for a brief stint in the Army during the Korean War. He trained to be a bookbinder with other longtime bookbinders, both foreign and domestic, who represented a broad range of skills. "As I got older, I read extensively and collected books on binding and its history, and continued to learn from experts through workshops and collegial visits," Craven says. At U-M, he says he has had the privilege of working with extremely knowledgeable and intelligent people and of being able to contribute to the intellectual environment of the library system.
In his free time, Craven enjoys spending time with his wife, children, grandchildren and golden retriever. He also enjoys going to the opera and traveling.
"My wife and I were honored to be included in a group from the Bentley Library who were guests of the State Archives of China last summer, traveling to Beijing, Guilin and Shanghai to visit a number of archives and libraries, as well as historical sites," Craven says. (Photo by Paul Jaronski, U-M Photo Services)
Tags: