Seven years ago John Gyorki had a hankering for the Hungarian sausage he enjoyed growing up, but the ones he bought from the store were fatty and tasteless. His solution: create his own line of Hungarian sausages and spices.
"I got online and checked out the health department, and discovered the industry allows sausages to be 50 percent fat and 3 percent water," says Gyorki, a high voltage electrician with Utility and Plant Engineering. "I wanted to make a better product."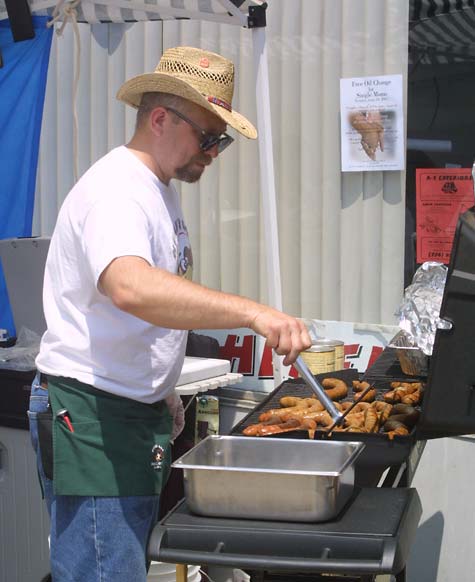 Today Gyorki sells five flavors of his lean Hunky Dogs, Hungarian, Hungarian Hell Fire, Polish, Chorizo and Sage, seasoned with his own John E. Kolbasz seasonings.
He adopted the unique names for his products from childhood nicknames. "I was nicknamed Johnny Kolbasz by my friends growing up because of my Hungarian heritage," he says. "Hunky is slang for Hungarian, and my father used to call me his little hunky."
Gyorki turned to an old family friend who had been making Hungarian sausage for years to teach him the ropes, using his technique and recipe as a starting point from which to develop his own.
As Gyorki developed his sausage-making and spice- mixing abilities, his co-workers on the high voltage crew became sausage connoisseurs, giving the thumbs up or down for each new attempt he cooked up. Either way, he appreciated their advice.
"They would give me an honest opinion," Gyorki says. "If you get no feedback, there is no point in developing anything."
These colleagues spread the word that Gyorki ground up a mean sausage, jump-starting his business. "Things started snowballing after I brought it to co-workers," Gyorki says. "I started getting excited by the challenge of people wanting to be part of my heritage."
Gyorki operates his sausage business entirely out of his home, with the help of his wife and children, putting his state-certified kitchen to work once a week. He can grind anywhere from 40-200 pounds of pork and turkey a week depending on customer demand.
"I don't have anything on hand, so everyone pre-orders. I make it once a week and then I deliver it," Gyorki says.
It is this personal touch that Gyorki will strive to maintain as the business continues to grow. "I don't want to become like Johnsonville. I want to keep the values of homemade and home fresh at an independent level."
Tags: