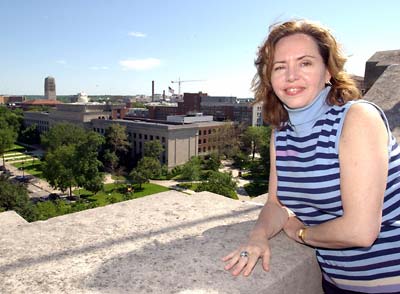 The words "concession stand" conjure images of hot dogs, popcorn and lemonade for most people. For Mary Stewart, a conference assistant for University Unions, it means sifting through applications, making numerous phone calls, and collaborating with plant operations to generate electricity and water at new locations.
Stewart is in charge of organizing the concession vendors who take over the Michigan Union grounds during the Ann Arbor Summer Art Fair.
"We are usually one of the first choices in the country for vendors," she says. "People call throughout the year to get on the waiting list."
July 16-19, 20 vendors will set up shop in the 26 spaces the Union grounds has to offer. "Vendors are coming from New York, Florida, Virginia and North Carolina this year," Stewart says. "People are going to get a real mix of flavors."
When looking at applications for first-time vendors, Stewart takes into account the range in their menus and the size of their booths.
"We are looking for something different, someone with variety," she says.
Passing muster and making their Ann Arbor debut are La Flambee, serving crepes; Shishka Hous, serving red beans and rice, honey glazed corn, sticky rice and blackened red fish; and a booth serving chicken and shrimp baskets.
There is a crop of regulars as well, including Special Events and Lavery Concessions, which are 10-year grounds veterans.
"We really look forward to seeing the vendors again," Stewart says. "We have a very good relationship. They send us Christmas cards and invite us to go out with them at the end of theday."
Stewart has an especially close relationship with the Greek vendors. "They don't speak English, and I speak Greek, so it combines my second language with my job," she says.
It has become a tradition for Stewart to hop on a plane to Greece immediately after the art fair. "I'll start packing for vacation at the beginning of July, so when the art fair is over, I can leave," she says.
This year, she will explore northern Greece and visit her mother's village. "I can't wait to see and experience more of Greece. I feel like I am going back home," she says.
Tags: