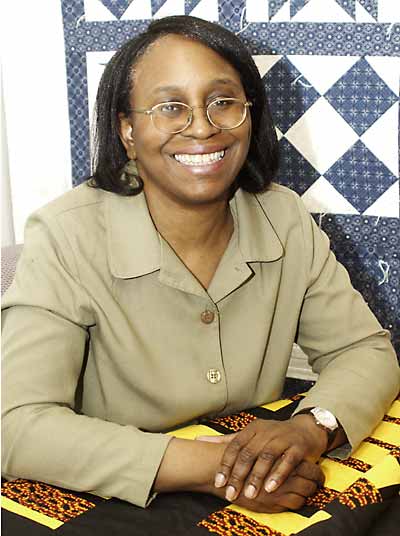 While most people are content pursuing an activity or two outside of their careers, a select few are more ambitious, immersing themselves in numerous extra pursuits. Karen Simpson, a student account assistant II/ Financial Operations employee is one such person.
Simpson, a U-M employee for the past 25 years, works primarily in what she describes as customer service: answering questions of parents and students concerning their tuition statements. Outside of her job, Simpson sits on museum boards and is a fabric artist, a buffalo soldier, a cook and a writer.
Further evidence of Simpson's wide array of interests is that she has three different degrees. "When I first entered college, I was interested in working with horses and I was also interested in food science," Simpson says. When she graduated from college, her father died, so Simpson settled near her mother. She took a job with U-M, and while there decided to pursue a master's in business. "I didn't want an MBA, so since I was good in Spanish I elected to get a degree in foreign language and international trade," Simpson says.
When she finished her work for her second degree, Simpson helped her mother develop and run a children's bookstore. It was during this time that she discovered another passion: history and historical buildings. "I considered myself very lucky because Eastern Michigan University has one of the best programs in the nation," Simpson says. "I learned from some of the best how to go about developing events and exhibits that help the public better understand the past and its influence on the present." She graduated with a degree in historic preservation.
"I get my love of agriculture from my father, who grew up on a farm. And even though he, like many other Black people of his era, moved to the city, he was always interested in working with animals, and he loved creating vegetable gardens," Simpson says. She became interested in the history of agriculture through this, and it has been an important theme in much of her research and work, especially her work for her master's in historical preservation.
Simpson is historian for the Out of Africa program, a plant- and culture-centered program between the Matthaei Botanical Gardens, Ardis Renaissance Academy and the College of Engineering, and the African American Cultural and Historical Museum of Washtenaw County. She also works with other board members on the museum's bus tour of Underground Railroad sites in Washtenaw County.
Simpson publishes articles on African American culinary and agricultural history. "I have always been interested in the history of food," Simpson says. "Even when I was little I used to wonder what the people we read about in our history books grew and cooked." Simpson's mother made food an important part of her life growing up. Simpson remembers her mother trying recipes from around the world and teaching her how to cook.
In addition to her other activities, Simpson is a fabric artist. "I was always interested in horses, and one day I was looking through a fabric arts magazine and I came across an advertisement for an exhibit that was going to feature photos of horsemen from Nigeria," Simpson says. "The picture with the advertisement featured a set of brightly colored quilted armor for horses from the 1800s. I fell in love with the picture and the history of the horsemen, and I wanted to learn to quilt so that I could make my own set of quilted armor." This spurred Simpson to start quilting, which led to her learning more about the long tradition of the craft in African American culture. Simpson has been involved in fabric art for 15 years, and she opened a studio five years ago.
Simpson also participates in the Washtenaw County Buffalo Soldiers. The group, which takes its name from the one given to Black calvary members by the Cheyenne Indians during the late 1800s, is made up of members from Washtenaw, Wayne and Monroe counties. They participate in a number of local parades, rodeos and school presentations. Simpson dresses in clothing an African American woman from that time period would wear, and she does explanations and demonstrations about what life was like for women at that time.
Simpson also is a passionate horseracing fan who used to own racehorses as a member of a racing partnership. Simpson also enjoys collecting African American memorabilia and reading historical nonfiction.
Tags: