The university is creating a special award for its 200th year, honoring 20 people who embody the breadth and excellence of its more recent alumni.
The University of Michigan Bicentennial Alumni Awards, to be presented during the 2017 spring and winter commencements, reflect a desire to acknowledge U-M's past contributions and herald its future achievements, as well as its state, national and global impact.
more information
Related Articles
Any member of the university community may submit a nominee by Dec. 9, and President Mark Schlissel has appointed a Selection Advisory Committee to recommend 10 awardees for each commencement ceremony.
The committee will be chaired by Susan E. Alcock, Presidential Bicentennial Professor, professor of archaeology and classics, and special counsel to the president for institutional outreach and engagement.
"The end of two centuries for the University of Michigan also means we are beginning a third. The University of Michigan Bicentennial Alumni Awards give us a very special opportunity to recognize individuals from our more recent past who can inspire our community through their outstanding ongoing work," Schlissel said.
Nominees should be: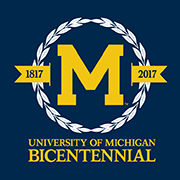 • An alumnus or alumna who attended the university as an undergraduate or graduate student not more than approximately 10-20 years ago.
• Strong leaders and representatives of the mission and values of the university.
• Individuals whose achievements carry on U-M's traditions of intellectual creativity and academic endeavor, of civic engagement, and of national and international service.
Current U-M faculty members or other active employees of the university are not eligible. Self-nominations will not be accepted for consideration.
Use of the web form is strongly preferred for nominee submissions. Nominations should include a concise case for the candidate and their particular appropriateness for the award, and a curriculum vitae, resume or other biographical sketch of the nominee.
Nominees should not be informed that their names are being put forward.
Besides Alcock, members of the advisory committee are:
• David Brown, associate vice president and associate dean for health equity and inclusion, and associate professor of otolaryngology-head and neck surgery, Medical School.
• Sally Churchill, vice president and secretary of the university.
• Steve Grafton, Alumni Association president and chief executive officer.
• E. Royster Harper, vice president for student life.
• Jerry May, vice president for development.
• Chukwuka Mbagwu, president of Rackham Graduate Student Government.
• Dana Muir, Robert L. Dixon Collegiate Professor of Business, Arthur F. Thurnau Professor of Business Law and professor of business law, Stephen M. Ross School of Business.
• Martha Pollack, provost and executive vice president for academic affairs.
• David Schafer, president of Central Student Government.
• David Turnley, associate professor of art and design, Penny W. Stamps School of Art & Design.
Committee liaisons are Lisa Connolly, senior manager for executive searches, awards and select committees, Office of the President; and Tami Wilkinson, associate director of presidential events, University and Development Events.
Tags: