Six members of the faculty have been awarded Arthur F. Thurnau Professorships, following approval by the Board of Regents at the Feb. 15 meeting.
James Cogswell Jr., Sherman Jackson, Robert Megginson, Dana Muir, Ann Marie Sastry and Peter Washabaugh are recipients of one of the top honors awarded to faculty. The award recognizes and rewards outstanding contributions to undergraduate education.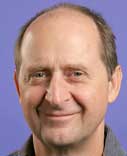 Cogswell, a professor of art in the School of Art and Design, is described as "an exceptional artist, outstanding teacher, and valued colleague" who also is an "inspiring collaborator who sweeps his students along on the exciting voyage that is the creative process."
"His success in the classroom stems from the dynamic wellspring of energy, interest and empathy he brings to his interactions with students. His intellectual curiosity and drive for knowledge move students to take risks and discover their own artistic voices," those who nominated him say.
Jackson, professor of Near Eastern Studies in LSA, is a "devoted and brilliant undergraduate teacher" who is an inspiration to his students, according to his nomination.
"As a leading scholar of both Islam in America today and classical Islamic law and theology, he is extraordinarily well positioned to help students navigate the very sensitive geopolitical issues that have been with us since Sept. 11, 2001. The courses he has developed draw very diverse audiences, and he 'successfully encourages students of minority racial, ethnic and religious backgrounds to talk candidly and directly about some very challenges concepts that are culturally foreign to most students,'" his nomination states.
Megginson, associate dean and professor of mathematics in LSA, is the winner of numerous campus and national awards for excellence in mathematics education. He is credited with reforming introductory math courses to "emphasize real-world problem solving and cooperative learning." He also re-designed the Math Lab to "focus on mastery of basic skills, leaving classroom time for learning the higher order thinking that is at the heart of mathematics education," his nomination states.
He has done much to recruit and retain underrepresented minority students, particularly Native Americans, and one student wrote: "Professor Megginson's commitment to diversity extends beyond his own personal connections to support the shared challenges that all underrepresented minorities face."
Muir, professor of business law in the Stephen M. Ross School of Business, is described as a gifted and dedicated teacher who regularly receives outstanding reviews from students.
"She displays a unique ability to translate detailed, highly intricate legal issues into the realistic business situations, and she uses hands-on activities, group projects and simulations to make material accessible and relevant to students." For example, she has engaged students in a mock trial of Enron former CEOs to illustrate the issue of financial fraud.
Sastry, professor of mechanical engineering, of biomedical engineering and of materials science and engineering in the College of Engineering (CoE), is known for her availability and responsiveness to students, and "her rare ability to be both demanding and supportive."
Sastry teaches a wide range of courses and is known for her approach to teaching Introductory Engineering, in which she uses pizza production to teach concepts such as optimization modeling and thermodynamics. Her innovation in the classroom resulted in an appointment to the College Engineering Teaching Academy. One student wrote: "She leads me to the door and challenges me to open it myself."
Washabaugh, associate professor of aerospace engineering in the CoE, is best known for the Mars Blimp Course, in which first-year students fly blimps around the atrium of the FXB Building on North Campus. "Wildly popular with students, this exemplar of hands-on 'design, build and test' pedagogy has shifted the entire department's paradigm for introductory engineering education," his nomination states.
Washabaugh is credited with working for more than a decade to provide opportunities for students to apply industry-ready technology in real-world situations.
Each year Thurnau Professorships recognize and reward a select group of five to six tenured faculty members for their outstanding contributions to undergraduate education. Criteria for the award include a strong commitment to students and to teaching and learning, excellence in teaching, innovation in teaching and learning, a strong commitment to working effectively with a diverse student body, and a demonstrable impact on students' intellectual and/or artistic development.
The professorships are named after alumnus Arthur F. Thurnau and supported by the Thurnau Charitable Trust, which was established through his will. Those appointed may keep the title throughout their tenure at U-M. Recipients receive $20,000 to support teaching activities, including travel, books, equipment and graduate student support.
Tags: