Presenters outline faculty careers for grad students and postdocs
More than 500 graduate students and postdoctoral scholars from 16 U-M schools and colleges registered for the 13th annual Preparing Future Faculty conference Wednesday to learn about strategies and resources for success in academic careers.
Sponsored by the Center for Research on Learning and Teaching and Rackham Graduate School, the half-day conference serves active academic job seekers, as well as those who are exploring academia as one possible career path.
+ more information
Sessions included faculty panels and hands-on workshops for developing job search materials — cover letters, CVs, and teaching philosophy statements — and skills such as interviewing, giving teaching demonstrations, and negotiating job offers. Faculty panels focused on strategies for succeeding in academic positions in a wide range of disciplines and types of institution.
Additionally, participants networked informally with visiting presenters and representatives of U-M offices that provide professional development support: Rackham Graduate School, CRLT, the Career Center, and the International Center.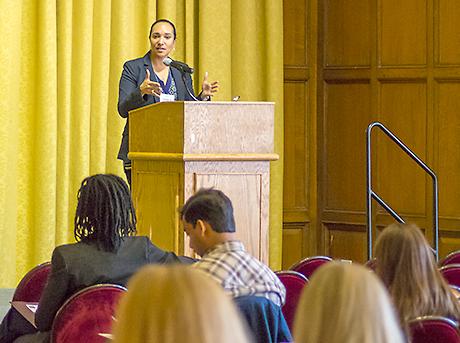 Tabbye Chavous, associate dean for academic programs and initiatives at the Rackham Graduate School, welcomes participants to the Preparing Future Faculty conference. (Photo by Pam Fisher, CRLT)
Natalie Bartolacci, Program Officer for Student Development in Rackham's Graduate Student Success office, observed lots of good networking among participants between concurrent sessions.
"They got to practice sharing their backgrounds, career aspirations, and trajectories through casual, yet productive conversations," she said.
This year's program featured more than two dozen faculty members from U-M and different types of regional universities (Denison, Detroit Mercy, Eastern Michigan, Kettering and Michigan State), liberal arts colleges (Albion, Allegheny, Alma, Kalamazoo), and community colleges (Delta, Mott, and Washtenaw).
"A strength of the conference overall was my ability to hear perspectives I wouldn't get through either formal or informal interactions here at Michigan, to diversify my understanding of institutional contexts and the higher ed landscape," said Kevin Goodman, a Ph.D. candidate in psychology and women's studies.
Presenters from further afield (University of Maryland Baltimore County, Virginia Military Institute, and Montclair State University) participated remotely in the panel titled "Preparing for the Unexpected Job."
This new addition to the conference included faculty whose careers took them to institutions where they had not envisioned themselves working when they were graduate students.
"The availability of a conference like this is really valuable. There are so many options out there, and R1 faculty may not have much exposure to some of them, like community colleges," said Kendall Teichert, a Ph.D. candidate in mechanical engineering said. "Attending the conference a year or two before going on the market can inform the direction I want to take — a research, teaching or industry path."
Third-year aeronautics engineering graduate student Ryan Kitson was glad to be able to explore career options even earlier. "There are so many, it can be hard to know where to start and what suits me best. And there aren't any career fairs like there are with industry employers."
Another new session this year demystified "The Role of Service in Faculty Life," as visiting faculty panelists explained how their different institutions define service, how much time it takes — compared with research and teaching — and how it affects their day-to-day life with colleagues.
Several panels, like one titled "Underrepresented in Our Fields," highlighted resources from U-M's ADVANCE program and other programs aimed at supporting the success of diverse faculty in all fields.