Dr. Caesar Briefer
Former director of the University Health Service (UHS) Dr. Caesar "Cy" Briefer died Jan. 12 at his home in Ann Arbor. He was 76.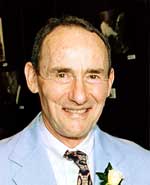 During his tenure as director from 1981-99, UHS instituted a full student health fee to cover office visits and many other procedures such as X-rays and ultrasounds; became the first independent practice association group to join M-CARE; and received $7 million for an extensive renovation of UHS facilities, which was completed in 1997.
Briefer attended the University of Chicago School of Medicine and did his postgraduate training in internal medicine and endocrinology at the Massachusetts General Hospital (MGH) in Boston. After several years on the MGH staff, he became the medical director for the Polaroid Corporation in Cambridge, Mass.
Briefer became UHS director in 1981 and served in that role until his retirement in 1999. He loved work, travel, tennis and skiing. Friends and family say he loved to laugh and make others do the same. He also was well known for composing funny songs and cards to mark important occasions.
Briefer is survived by his wife, Luan; two children, Jessica and Andy; three stepchildren, Michael McCarty, Lynn McCarty and Beth Vermeulen; and five grandchildren. Condolences may be sent to: Luan McCarty; 2240 Glendaloch Rd; Ann Arbor, MI, 48104-2832.
Donations may be made to UHS, the University of Chicago School of Medicine or Arbor Hospice and Home Care.
Robert Butsch
Robert S. Butsch, former director of the Exhibit Museum of Natural History, died Dec. 20. He was 91.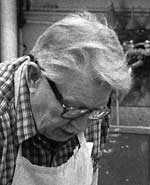 Butsch served the Exhibit Museum from 1954-86 as assistant to the director, curator of exhibits, and finally as director from 1974 until his retirement in 1986.
Even in retirement, Butsch remained active in the museum, lecturing every winter in the Museum Methods class, attending museum events and contributing generously to various fundraisers.
Butsch's Native American dioramas—miniature scenes depicting life among various North American culture groups—at the top of the stairs in the museum long have been a favorite of visitors. At the time of his death he was working on a new diorama of a Pennsylvania coal forest scene, which will go on display later this year.
Born in Owatonna, Minn., Butsch received his bachelor and master of arts degrees from the University of Iowa and his doctorate in zoology from U-M in 1954.
He was curator at the Arrowhead Museum in Aurora, Minn., in 1937-38 and chief preparator at the Barbados Museum in 1938-39. From 1942-46 he served in the Army in the South Pacific. He was president of the Michigan Audubon Society in 1960-61 and edited the organization's Jack-Pine Warbler from 1961-64.
He had a lifelong love of nature, hunting and fishing.
In 1941 he married Miriam Palmer, who died in 1997. Survivors include their daughter, Elizabeth Cardinal of East Lansing, as well as his brother, Thomas; sister-in-law, Betty, a nephew, two nieces and two grandchildren.
—Submitted by Dan Madaj, Exhibit Museum of Natural History
The Record accepts obituaries from University departments, family members and funeral homes acting on behalf of the family. All obituaries must be for active or retired faculty and staff members.
Tags: