Joseph Burckhalter
Professor Emeritus of Medicinal Chemistry Joseph Burckhalter passed away
May 9 at his home in Melbourne, Fla. He was 91.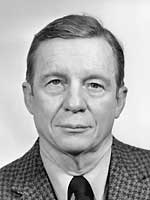 Burckhalter, who was a professor of medicinal chemistry at the College of Pharmacy from 1960-82, had a distinguished career in biomedical research as a scientist, teacher and administrator dedicated to utilizing medicinal chemistry for the discovery of new drugs, particularly those to treat cancer and infectious diseases. In 1942, he received his doctorate in medicinal chemistry at U-M, where he had been a graduate student of the legendary Frederick Blicke. Upon earning his doctorate, Burckhalter went to work for Parke Davis & Co.
"At Parke Davis, Joe was instrumental in the discovery of the anti-malarial drugs Camoquin and Propoquin," says John Drach, professor of medicinal chemistry in the College of Pharmacy and professor of biologic and materials sciences in the School of Dentistry. "His early work also led to two useful antiamebic drugs, Camoform and Clamoxyl. Although they were discovered and first marketed nearly 40 years ago, Camoquin continues to be useful in the treatment of parasitic diseases in many areas of the world."
From Parke Davis, Burckhalter went to the University of Kansas College of Pharmacy, where he initiated the school's doctoral program in medicinal chemistry. He also served at the National Defense Medical Center in Taiwan, and as a Fulbright professor in Germany. He returned to U-M in 1960 to succeed Blicke when Burckhalter's former faculty mentor retired.
"Joe was largely responsible for building the interdepartmental graduate program in medicinal chemistry at both Kansas and Michigan—and he, together with Joe Sinsheimer (Ph.D'PChem'53) and Ray Counsel worked tirelessly to make the program a success in its early days," Drach says.
Burckhalter chaired Michigan's program until Albert B. Prescott Professor Emeritus of Medicinal Chemistry Leroy Townsend was recruited, at which point Burckhalter turned over the reins.
Although Burckhalter retired from U-M in 1982 at age 70, he continued to be active in scientific research for a number of years. He served as a research professor of medicinal chemistry at the Medical Research Institute, Florida Institute of Technology, where he continued an active interest in drug development in the areas of cancer and virus diseases such as AIDS.
He was a recipient of the American Innovator Award from the U.S. Patent and Trademark Office, the Distinguished Alumni Award at the Universities of South Carolina and Illinois, and the Order of the Palmetto, given by the governor of South Carolina. He is listed in "Who's Who in Medicine and Healthcare."
Burckhalter is survived by his wife, Julia Johnston Belton; two sons, David and Robert; one daughter, Jane; and two grandsons.
A memorial service was held in South Carolina. In lieu of flowers, the family requests that contributions be made to Hospice of Health First, 1900 Dairy Road, Melbourne, FL 32904 or St. John's Episcopal Church, 301 W Liberty St., Winnsboro, SC 29180.
Chen-To Tai
Chen-To Tai, one of the most respected and influential scientists in electromagnetics and antenna theory, passed away peacefully July 30 at his home in Ann Arbor.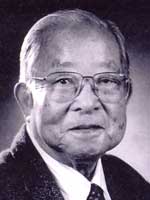 Professor Tai was born in 1915 in Luzhi Township on the outskirts of Soochow, China, and received his bachelor's degree in physics from Tsing-Hua University in China in 1937. He traveled to the United States in 1943, having obtained a scholarship from Harvard University. He received his master of science degree in communication engineering from Harvard in 1944, followed by a doctor of science in 1947. He continued at the Cruft Laboratory as a research fellow until 1949, when he accepted a research physicist position at the Stanford Research Institute.
In 1954 he was appointed associate professor of electrical engineering at The Ohio State University. Two years later, he left to take a faculty position at the Technical Institute of Aeronautics in Sao Jose dos Campos, Brazil, where he became proficient in Portuguese. He returned to OSU in 1961 and, in 1964, joined U-M as professor of electrical and computer engineering, becoming a member of the Radiation Laboratory.
Apart from 1967-69, when he took a reduced appointment to work part time for KMS Industries, he remained at U-M for the rest of his career and was made emeritus professor in 1986.
Following his formal retirement, he continued as an active member of the Radiation Laboratory, and the years immediately following his retirement continued to be productive as he refined his prior work on vector and dyadic calculus and published a book on it in 1991. He also revised his earlier book on Dyadic Green's Functions.
Throughout his career, Tai received many honors and awards. He was elected Fellow of the Institute of Electrical and Electronics Engineers (IEEE) in 1962. He received the AP-S Distinguished Achievement Award in 1986 and the IEEE Centennial Medal in 1985, when he was made a Life Fellow of the IEEE.
He also received outstanding faculty and teaching awards from OSU and U-M and was awarded honorary professorships by Shanghai Normal University, Chongdu Institute of Radio Engineering, and Nanjing Institute of Post and Communication in 1980, 1986 and 1987, respectively. He was appointed a member of the National Academy of Engineering in 1987 and received the IEEE Heinrich Hertz Medal in 1998.
Tai was recognized throughout the world for his research on antennas and electromagnetics in general. He was a dedicated teacher known for the clarity of his lectures and was both loved and respected by his students and colleagues. In addition to his technical work, he had a variety of other interests and hobbies including tennis, Chinese literature, painting, calligraphy, and music (both Chinese and classical western).
In 2000, to honor his love for teaching and education, his family and friends created the annual IEEE AP-S Chen-To Tai Distinguished Educator Award.
Tai is survived by his wife, Ming, and by five children and 10 grandchildren.
—Submitted by the Department of Electrical Engineering and Computer Science

Sandra E. Colombo
Sandra E. Colombo, a director for Information Technology Central Services (ITCS), died peacefully in her sleep Aug. 7. She was born in N. Tonawanda, N.Y., July 27, 1950.
An alumna, she continued her affiliation with U-M after earning her doctorate in higher education/psychology in 1988. A year later she joined the Office of Administrative Systems as Manager of Systems and Programming and served the University's central IT organization in a variety of roles.
Colombo is well remembered for the work she and her team did when she managed one of the largest non-commercial e-mail systems in existence. She was passionate not only about the reliability and performance of the infrastructure she managed, but also its human impact and operational efficiency.

She worked tirelessly to avoid or reduce deficits, defend privacy, support the adoption of Internet standards, and always struggled to draw the best possible work from each of her employees, colleagues say. Recently she had been most concerned with disaster recovery, back-up and scaling the campus data centers to meet the ever-increasing need for reliable production space.
Colleagues remember her as hardworking and possessing high ideals. She was proud of her staff members and their accomplishments and always was a champion for her team, they say. Her sense of humor was noteworthy, particularly under times of stress.
"Sandy was very dedicated to her staff," says Barbara Brown, an ITCS manager who worked closely with Colombo. "She had great integrity and could be trusted to do as she said. She was considerate and caring at all times. I will miss her very much."
"Sandy was a fantastic human being with a deeply refined sense of irony," says Kevin McGowan, also an ITCS manager who worked with Colombo. "She was fair, passionate, circumspect, a joy to be with, and I miss her dearly."
She was a member of the First Presbyterian Church, The Burns Park Players and the Ann Arbor Women's City Club. She is survived by her daughters, Danielle and Nicole Stempien; parents Anthony and Audrey Colombo (Mesa, Ariz.); brothers Paul (New Orleans) and Ray (& Phen) Colombo (Mesa, Ariz).
A memorial service was held Aug. 11 in Ann Arbor.
—Submitted by Kim Cobb, ITCS
Tags: