To celebrate the University of Michigan's 200th birthday, LSA will dedicate its winter and fall 2017 semesters to exploring the history and future of U-M through its people and their impact on the world.
Related Articles
Each semester will include programming for students, faculty, staff and the general public that examines U-M's responsibilities and legacy from a variety of viewpoints.
"The bicentennial presents an incredible opportunity to stimulate people to rethink what they know of how the University of Michigan came to be, and this is the goal of the LSA theme semesters," said Howard Brick, the Louis Evans Professor of History and a theme semesters chair.
"It's a complicated story. For example, how is the university's founding linked to the dispossession of native peoples and American slavery?" Brick asked.
This question will be considered during a Jan. 13 opening event, featuring Michael Witgen, associate professor of American culture and history, and Tiya Miles, Mary Henrietta Graham Distinguished University Professor of African American Women's History, and professor of Afroamerican and African studies, American culture, history and women's studies, along with a special appearance by "Underground Railroad" author Colson Whitehead.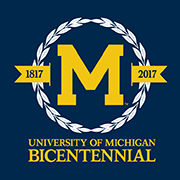 The winter 2017 theme semester, "Making Michigan," will trace the university's history from its 1817 origin as a center for cultivating knowledge and creativity across an array of disciplines and arts. It will look at U-M's role in local, national and global public affairs, and at its evolution in becoming a community of students, faculty, administrators and staff.
Courses and public events during the semester will reflect the university's changes and its continuity over the 200-year span of the institution's history, and they will foster critical discussions about current issues in university life that have a broad impact on society.
"The story of the university is interwoven with national and even international history," says Gregory Parker of the Eisenberg Institute for Historical Studies and a member of the theme semester planning committee. "Our idea is to invite the entire campus to understand and unpack these connections, to learn how Michigan was shaped by our world and, in turn, how Michigan has influenced the globe."
The "Making Michigan" theme semester will include a diverse range of courses for students, spanning topics from sustainability at U-M, to the history of Asian studies, to racial justice, and even the geology of the Great Lakes. Additionally, Terrence McDonald, professor of history and the director of the Bentley Historical Museum, will teach a special course called "22 Ways to Think about the University of Michigan."
The "Making Michigan" semester also will feature five symposia that delve into specific eras from U-M's past, examining these eras' events, controversies, accomplishments and lasting significance. The symposia will also highlight important turning points — 1817, 1877, 1917, 1943 and 1967 — in which university history intertwined with national and global events.
These symposia will be complemented by lectures, panel discussions and exhibits that explore related issues, such as student life and the university's relationship with Detroit's automobile industry.
The fall 2017 theme semester, called "Michigan Horizons: The Possible Futures of U-M," will consider U-M's future in American life and global society, including its current challenges and dilemmas and those that are anticipated in coming years.
Courses and public events during the semester will examine U-M's place in questions about the heritage and mission of public higher education, including the expectations and critiques that citizens, students and scholars bring to institutions like Michigan.
Tags: