Law School HR director marks milestone with fitness events
To slow down at age 50 may work for some. Instead, Shawna McManus decided to get busy.
The human resources director for the Law School decided to mark her 50th year by participating in 50 fitness-focused events, some grueling.
It all started last holiday season. McManus was thinking about her upcoming 50th birthday, on Feb. 15, 2015.
"People seem to mark 50 as the time when their life slows down. I wanted to mark 50 as a time when I'm just getting started," she says.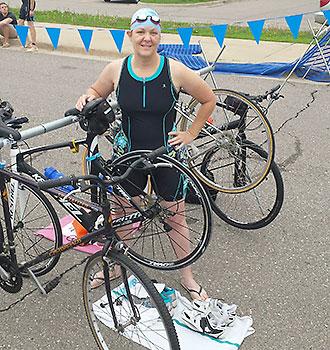 Shawna McManus marked her 50th year by participating in 50 fitness-focused events. (Photo by Dan McManus)
McManus generally had been physically active much of her life. But she got out of the exercise habit when her trainer moved away two years ago. She made a plan.
"I decided to do 50 fitness activities. But it couldn't just be me going outside for a run. It had to be something where I had to register, and pay." She says each event had to be organized and fitness related.
To research and find events, she went to michiganrunner.com, active.com and runningfit.com. McManus kept a spreadsheet detailing each weekend's activities. She actually scheduled 75 fitness-focused events, to have backups in case of cancellations. Some days, she participated in two.
The list included three triathlons. Each included a 400-meter swim, 12.4-mile bike ride and 5K run. She also did military boot camp-style events. One involved carrying 20 pounds of bricks in a backpack in 95-degree heat. It was in downtown Detroit and led by ex-U.S. Special Forces instructors.
"If you don't make the time cut-off, the cadre (instructor) has you do fun things like sit-ups and push-ups," McManus says.
The most grueling was a charity bike ride. A planner was supposed to mark a 25-mile course with orange arrows. They used pink arrows instead. Those following orange — McManus included — were actually on a 40-mile course. Once the mistake was discovered halfway through, there was no shortcut to the end.
"I thought I was going to sit on the side of the road and cry. But we finished it," McManus said.
Joining her at nearly half of the races was son Patrick, 15. Daughter Claire, 18, came to several events to take photos. McManus's husband, Dan, came to nearly all of the events. "He didn't want me to do it alone," she says.
Even with the support, it's been a struggle, McManus says. She has run in pouring rain, in knee-high snow in minus 10 degrees, in hail, sleet and thunder.
"It was hard every single Saturday and Sunday to get up early for a race and not sleep in," she says.
McManus is nearing her goal. The 8K Lightfest Run on Tuesday along Hines Drive in Livonia is No. 50.
 "We're definitely going to go out after and have a celebration for sure," McManus says.