Related Articles
at a glance
President's Bicentennial Colloquium: The Campus of the Future
Oct. 26
Design showcase
9 a.m.-3 p.m.
​Duderstadt Center
Judging
4:30 p.m.-6 p.m.
​Rackham Auditorium
When the university began in 1817, it consisted of a lone two-story building with one teacher in the village of Detroit.
Nearly two centuries years later, the University of Michigan occupies some 700 buildings with thousands of faculty and students in Ann Arbor, Dearborn and Flint.
How will U-M look and function in 2067? That is for today's community to envision as part of the university's bicentennial celebration.
A yearlong competition, "The Campus of the Future," asks students to collaborate on projects that reimagine methods and spaces for teaching and learning at a residential research university.
The design competition is the final of three colloquia sponsored by the Office of the President during the bicentennial year.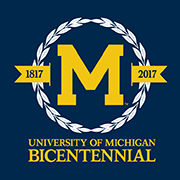 Joanna Millunchick, Arthur F. Thurnau Professor and professor of materials science and engineering, College of Engineering; and Mika LaVaque-Manty, Arthur F. Thurnau Professor and associate professor of political science, LSA, are leading the colloquia as Presidential Bicentennial Professors.
"All social institutions are subject to new technologies, fluctuating economies, shifting demographics, and more. Universities are no exception," Millunchick said. "We are just as interested in student teams reimagining how people get around campus using autonomous vehicles as we are in projects that rethink how students navigate their degrees.
"We believe students are in the best position to truly reinvent the university of the 21st century."
A nationally renowned panel will gather in Rackham Auditorium to judge the projects for creativity and innovation, awarding $25,000 in prizes to the best concepts. Prior to judging, projects will be on display at the Duderstadt Center.
"We want to see students re-design in ways that leverage new technologies and models in teaching and learning. The competition is not just about rethinking physical spaces literally, but also rethinking the campus metaphorically," said LaVaque-Manty. "We want projects that describe zero-emission buildings, as an example, but also projects that rethink what disciplines are housed in those buildings."
Tags: