Advances in fuel-efficient engines and insights on quantum dot optoelectronic devices have earned two professors election to the National Academy of Engineering.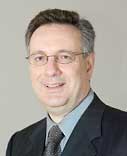 College of Engineering professors Dennis Assanis and Pallab Bhattacharya are among the 65 new members from across the nation elected into the academy last week. This is one of the highest honors in engineering.
Assanis is recognized for his work to improve fuel economy and reduce emissions of internal combustion engines, as well as for promoting automotive engineering education. A professor in the Department of Mechanical Engineering, he also is the Jon R. and Beverly S. Holt Professor of Engineering and the director of the automotive research center.
Automotive manufacturers, including General Motors, and the U.S. Army have used Assanis' research to significantly improve fuel economy and power density. His group's ongoing homogenous charge compression ignition engine research is expected to further raise miles-per-gallon between 15 and 20 percent, while meeting ultra-low tailpipe emissions standards. Assanis also was the founding director of the master of engineering degree program in automotive engineering.
"I feel greatly honored to have been selected to be among this very prestigious group and I gratefully acknowledge my students and collaborators for their contributions," Assanis says. "I feel an even greater level of responsibility to address the global energy and environmental challenges that we're facing."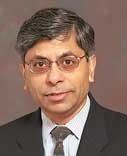 Bhattacharya is recognized for his contributions to quantum dot optoelectronic devices including lasers and detectors, and integrated optoelectronics. His research has led to improvements in fiberoptic communication systems. Optoelectronics involves the conversion of electrical energy to light and vice-versa. All communication systems that aren't wireless are connected through fiberoptic cables through which light transmits signals.
With his colleagues, Bhattacharya demonstrated the conditions under which quantum dots form. Quantum dots are tiny semiconductors.
"It is a distinct honor to be elected and I am truly humbled," Bhattacharya says. "This is a tribute to my students, past and present, and to the colleagues I have collaborated with along the way."
Bhattacharya is the Charles M. Vest Distinguished University Professor of Electrical Engineering and Computer Science and the James R. Mellor Professor of Engineering.
Assanis and Bhattacharya join 21 other CoE professors who are members of the academy.
Tags: