Diversity Summit keynote speaker addresses impact of stereotypes
Stanford University psychology professor Claude M. Steele explained how stereotypes can affect people's lives, and recommended ways to create a successfully diverse community at the 2017 Diversity, Equity & Inclusion Summit on Tuesday.
In a successfully diverse community, Steele said, all members — regardless of identities or stereotypes surrounding those identities — feel comfortable and that they are able to take advantage of the full spectrum of available opportunities.
+ more information
He said he arrived at the question of how to make such a community work through his extensive research on stereotype threat — a phenomenon that occurs whenever one is in a situation for which a negative stereotype about one's identities is relevant to the task or situation at hand.
"As soon as that's the situation, you know that you could be seen or treated in terms of that stereotype," said Steele, who served in U-M's Department of Psychology from 1987-91. "And if you care about what you're doing, if that's important to you, then the prospect of being reduced to a negative stereotype like that is upsetting, a distraction, (and) can interfere with your functioning right there in the immediate situation.
"And it can also have big consequences. It can make you feel like you don't want to be in this whole domain of life where you feel this pressure."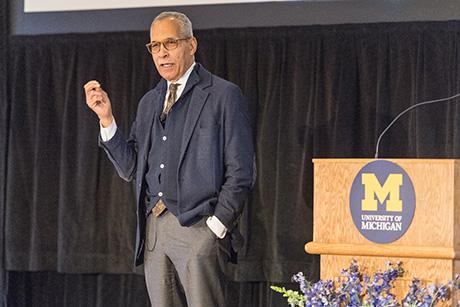 Stanford University psychology professor Claude M. Steele delivered the keynote address at the 2017 Diversity, Equity & Inclusion Summit. (Photo by Scott C. Soderberg, Michigan Photography)
Steele's keynote address at the Michigan League Ballroom kicked off this week's Diversity Summit, which will update the campus about the past year's work on universitywide and unit plans to improve diversity, equity and inclusion.
"In looking at the plans, it is clear that we are no longer in a place where the question is whether we should do something about diversity, equity and inclusion," said Robert Sellers, vice provost for equity and inclusion and chief diversity officer. "We're in a place now where the question is what should we be doing with respect to diversity, equity and inclusion."
Steele, who has held positions at a variety of institutions including Columbia University and University of California, Berkeley, is best known for his work on stereotype threat and its application to minority student academic achievement.
Steele said the stereotype threat concept began during his time working at U-M, when he sought to understand why the grade-point averages of African-American students consistently fell below the GPAs of other students, no matter their SAT scores before coming to college. A similar phenomenon occurred concerning women in science, technology, engineering and math courses.
Through experimentation, Steele discovered that stereotype threats do have an impact on people's performance.
Later in his address, Steele pointed out how both identity threat and the biases people hold are produced by the ways society is organized around identity.
"I don't want us to forget the fact that down on the ground we still have profound organizations, profound segregations going on that are organized around identity," he said. "Identity has, from the very outset of this country, been a mechanism by which advantage and disadvantage has been allocated."
"So when I arrive on campus as a kid, can I really assume that that identity isn't going to matter?" Steele asked. "That it won't be something that could affect me at some point, that maybe I should be cautious here?"
In a diverse community, Steele said, a key component is trust built within the community across lines of difference.
"I think it's much more important for institutions to focus on building that trust than to focus entirely, at any rate, on bias," Steele said.
To do that, Steele said, we could look at how institutions are organized, whether it be analyzing the organization of social life, who takes what courses and majors, and the representation of institutional history.
Rethinking mindset is also key in this process, Steele said, adding that people trust people who are interested in them and want to help them.
He said it's almost a responsibility of higher education institutions to give more people the opportunity for personal conversations across lines of identity instead of only socializing within their groups, thereby facilitating learning about other people's lived experiences.
"I think this is necessary to have a successfully diverse community," Steele said. "I think it's not easy to just come from very segregated situations and willfully get along together. I think there has to be understandings and relationships developed and connections and exchanges of information that make that a relatively easy and natural thing."