Daniel Klionsky elected to American Academy of Arts and Sciences
University of Michigan cell biologist Daniel Klionsky has been elected to the American Academy of Arts and Sciences, which recognizes exceptional scholars, leaders, artists and innovators.
Klionsky, a research professor at the Life Sciences Institute and professor of molecular, cellular and developmental biology in LSA, was one of more than 200 leaders in social sciences, humanities, arts, business and public affairs elected to the academy for 2019.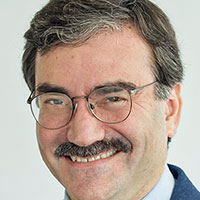 Daniel Klionsky
"I am sincerely honored to be elected to the American Academy of Arts and Sciences. At the same time, it is important to note that this honor reflects the efforts of many at the University of Michigan — students and postdocs from my lab over the past 20 years, as well as my colleagues and mentors who have contributed to advancing autophagy research," said Klionsky, the Alexander G. Ruthven Professor of Life Sciences.
A California native, he joined the U-M faculty in 2000.
"Dan Klionsky launched the field of autophagy with his discovery of the selective autophagy genes. He also developed the nomenclature and many of the experimental guidelines and standards in the field. It is wonderful to see this recognition for Dan from the American Academy of Arts and Sciences," said Roger Cone, the Mary Sue Coleman Director of the Life Sciences Institute and vice provost and director of the Biosciences Initiative. Cone received the AAAS honor last year.
+ more information
Autophagy is the process by which cells break down parts of themselves to survive stress conditions such as starvation. The role autophagy plays in cancer, neurodegenerative diseases and other areas of human health has made it a topic of great interest.
Working with baker's yeast cells, Klionsky characterized the protein pathways and signaling mechanisms by which a cell senses and responds to its environment. He also identified the cytoplasm-to-vacuole targeting pathway, a type of selective autophagy. His lab was the first to demonstrate endoplasmic reticulum stress-induced autophagy and autophagy in zebrafish.
Klionsky established the unified autophagy-related nomenclature for the field in 2003. He edited the first textbook on the topic and is founding editor of the journal Autophagy. The holder of two patents, Klionsky has edited five books, published more than 340 research papers, and given more than 140 invited talks.
The first biologist to win the National Science Foundation Director's Award for Distinguished Teaching Scholars, Klionsky incorporates a hands-on approach to teaching biology that features short, frequent quizzes and problem-solving activities. He also incorporates music, art and dance into his presentations.
He received funding from U-M's Third Century Initiative to create a three-dimensional handout to engage students with visual disability and others through tactile stimulation.
The AAAS was founded in 1780 by John Adams, James Bowdoin and others who believed the new republic should honor exceptionally accomplished individuals and engage them in advancing the public good. Its dual mission remains essentially the same 239 years later with honorees from increasingly diverse fields and with the work now focused on the arts, democracy, education, global affairs and science.
The new class will be inducted at a ceremony in October 2019 in Cambridge, Massachusetts.