Hands-on. Revolutionary. Immersive. Entertaining.
Related Articles
At a glance
The Third Century Expo
4-7 p.m. Oct. 27
Central Campus 
The multitude of activities, discussions and performances of the University of Michigan's bicentennial celebration will conclude with a singular focus on Michigan's next 100 years.
The Third Century Expo will be the bicentennial finale, blanketing the heart of Central Campus during the UMich200 Fall Festival. It will be a public fair of cutting-edge projects and initiatives that demonstrate how the university is making a positive impact on society, both locally and globally.
"The giant flagpole that towers over the Diag came to U-M from the 1893 World's Columbian Exposition, considered one of the most futuristic world's fairs. It is that same spirit of discovery and innovation that is driving plans for the Third Century Expo," said Gary D. Krenz, executive director of the Bicentennial Office.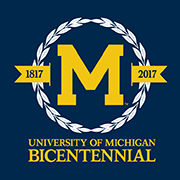 The expo will spread from the Diag north to North University Avenue and Ingalls Mall. There will be exhibits, live performances, pop-up art and music, and displays of new technologies. Lobbies in surrounding buildings also may serve as display or performance spaces.
"Fair-goers will find exhibits that encourage hands-on engagement, rather than a passive experience where they are told to 'look, but don't touch,'" Krenz said.
Pavilions and tents filled with interactive exhibits will be representative of schools, colleges and organizations from the Ann Arbor, Flint and Dearborn campuses. The Third Century Expo takes place on Homecoming weekend.
Tags: