Groups across the campus are planning bicentennial events of all styles and formats, from dance and art to photo exhibitions, scholarly colloquia and national conferences. The following plans are a sampling, with more to come as 2017 draws closer.
First Class
Related Articles
Jan. 23-Feb. 23, April 1-9
Michigan Union, Willis Ward Art Lounge
Profiles of the University of Michigan's first six students, and the two faculty who taught them. The exhibit features research conducted by Undergraduate Research Opportunity Program students and displays designed by students from the Penny W. Stamps School of Art & Design.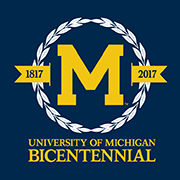 Constructing Gender: The Origins of Michigan's Union and League
Jan. 28-May 7
U-M Museum of Art
An exploration of how gender differences were incorporated into the design, fundraising and construction of two campus icons. Both buildings are the work of alumni architects Irving and Allen Pond. The exhibit is curated by the Bentley Historical Library.
Glancing Back, Dancing Forward: A Dance and Photo Installation
Feb. 2-5
Power Center for the Performing Arts
A lobby installation of little-known early dance activities at U-M, using large-scale reproductions of historic photos. The exhibit will be open during performances of the Department of Dance's "Glancing Back, Dancing Forward."
Third Century Screens: Making Michigan Visible for the 21st Century
Feb 17-19
Department of Dance, 1310 North University Court
Two distinguished guests, including Alison Griffiths, author of "Shivers Down Your Spine: Cinema, Museums and the Immersive View," will join in a colloquium designed to provide an overview of the traditions and contemporary creative practices involving the moving body, video and screening technologies. 
Victors for the Arts: Michigan's Alumni Collectors
Feb 18-June 11; July 1-Oct 29
U-M Museum of Art
A large-scale exhibition featuring works collected by U-M alumni spanning more than 70 years of graduating classes. Works featured will range from Ming Dynasty Chinese zodiac figures and an Inuit print to a painting by Andy Warhol and a Random International installation.
Museum on Main Street
March 5-Nov. 12
500 N. Main St., Ann Arbor
A multi-themed exhibit of student life and town-gown connections, including events during World War I, presented by LSA, the Bicentennial Office and the Washtenaw County Historical Society.
Resonance and Remembrance: An Interdisciplinary Campanology Symposium
April 1-2
Burton Tower, Rackham Auditorium, E.V. Moore Building
A boundary-breaking symposium that will bring together scholars and arts practitioners from musicology, art history, anthropology, urban studies, architecture, the history of the senses, science and technology studies, new media, Dutch studies, creative writing and more.
Revisiting University Housing's Past: Progress and Delay Toward Inclusivity
April 6-8
The Connector (Union and West Quad) and three residence halls
Exhibits will highlight places and moments such as Henderson House, Martha Cook Building, Barbour and Newberry halls for women, Northwood apartments for veterans, the creation of multicultural lounges, and gender-inclusive living in East Quad.
Pandemic! Contagious Crises from AIDS to Zika
April 7
Biomedical Science Research Building, Kahn Auditorium
A national conference on pandemics, co-sponsored by the Center for the History of Medicine and the Institute for Healthcare Policy and Innovation. Speakers include Dr. Paul Farmer, co-founder, Partners In Health; Dr. Anthony Fauci, director, National Institute of Allergy and Infectious Diseases; and Dr. Sanjay Gupta, CNN medical correspondent.
Midwest Asian American Students Union Spring Conference
April 7-8
Representatives from 24 colleges and universities will gather for dozens of workshops about historical victories for Asian- or Pacific Islander-American students and others, academic pursuits and research, and areas of improvement.
Wonder of Learning: The 100 Languages of Childhood
June 12-Aug. 27
Duderstadt Center
An international exhibit exploring the ways in which humans learn from their earliest days. It will include hands-on activities for both young and old. Presented by U-M Children's Centers, in partnership with the UM-Dearborn School of Education, Health and Human Services, the Stamps School of Art & Design and the Duderstadt Center.
First Class
Sept. 1-30, Oct. 23-30
Pierpont Commons, Piano Lounge
Profiles of U-M's first six students, and the two faculty who taught them. The exhibit features research conducted by Undergraduate Research Opportunity Program students and displays designed by students from the Stamps School of Art & Design.
Japan and the University of Michigan: Celebrating a 145-Year Relationship
Sept. 22-23
U-M Detroit Center
A symposium that will celebrate both the bicentennial and the 70th anniversary of the Center for Japanese Studies, and highlight U‐M's engagement with Japan past, present and future. It will involve representatives of NGOs, for‐profit groups, and scholars active in community building in Detroit. 
Object Lessons: Collections of Nature, Science and Art at U-M
Early October-late December
Ruthven Museums Building
The exhibition surveys 200 years of collecting and museum building. It reflects on objects that shaped academic disciplines, teaching and research practices on campus, and the science and politics of collecting. It draws on collections from U-M research museums as well as the University Herbarium, the Stephen S. Clark Map Library, Special Collections Library and the Bentley Historical Library.   
Excavating Archaeology at the University of Michigan, 1817-2017
Oct. 18-Jan. 21, 2018
Kelsey Museum of Archaeology
An exhibition that will draw on new research and use artifacts and archival material from a variety of campus sources to explore the complex and sometimes controversial history of archaeology and U-M museums.
Third Century Screens: Making Michigan Visible for the 21st Century
Oct. 26-28
Alumni Center Founders Room
A Pop-Up Projection Pavilion will celebrate the bicentennial theme of creating and inventing via moving bodies on multiple screens of every shape and size. Cash prizes will be awarded for top student, faculty and alumni work.
On the Horizon: Re-envisioning Public Higher Education in a New Era
Oct. 27
School of Education, Prechter Room
To mark both its 60th anniversary and the bicentennial, the Center for the Study of Higher and Postsecondary Education will host a series of discussions and events to help shape the future of U-M and public higher education in the United States.  
WISER Connections: Celebration of Women in Engineering and the Sciences 
Nov. 6-24
Duderstadt Center Gallery
This project will bring the Society of Women Engineers' traveling exhibit to campus. It will highlight the accomplishments of Michigan women and document accomplishments of current women in science, technology, engineering and medicine.  
Men's Glee Club Bicentennial Celebration
Nov. 10-11
Hill Auditorium
A celebratory symposium with sessions led by world-renowned presenters, featuring performances by premier choral groups and culminating in a Hill Auditorium concert.
Tags: