Bartlett named interim director of U-M Energy Institute
Bart Bartlett has been named interim director of the University of Michigan Energy Institute while the U-M Office of Research mounts a search for the institute's next director.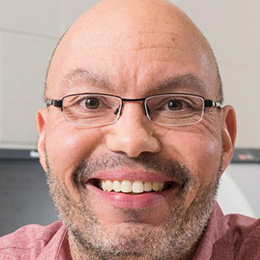 Bart Bartlett
Bartlett is the Energy Institute's associate director for science and technology, and an associate professor of chemistry in LSA.
Energy Institute Director Mark Barteau will join Texas A&M University as vice president of research effective Feb. 15.
A unit of UMOR, the Energy Institute builds on U-M's strong energy research heritage to develop and integrate science, technology and policy solutions to pressing energy challenges. With more than 130 faculty affiliates conducting more than $50 million in research each year, UMEI initiatives span 19 disciplines, several countries, and a range of industries.
"During the past five years, Mark Barteau has shepherded an important period of maturation and growth for the Energy Institute, and has launched key projects that have broadened its impact at U-M and around the country," said Vice President for Research S. Jack Hu. "We are grateful for his contributions to the institute, which have laid a firm foundation for its continuing success."
+ more information
UMOR will convene a team of faculty from across campus to help in the search for the next director.
Bartlett has been UMEI's associate director since January 2014. His research focuses on using inorganic synthesis to control the composition and morphology of compositionally complex materials.
Student and postdoctoral scholars on his team use these materials to answer fundamental science questions to correlate atomic and molecular structure with electronic structure or reactivity.
These materials have broad impact in the applications of solar energy conversion and electrical energy storage, and Bartlett has been deeply involved in the Energy Institute's Battery Lab since its inception.
He also coordinates the institute's Undergraduate Research Opportunity Program (UROP) program, which has grown to allow over 20 undergraduates to participate in energy research each year.
"I am honored to serve as the interim director of the Energy Institute, and I am thankful for Mark's terrific leadership," said Bartlett. "I look forward to collaborating with the talented faculty, support staff, and students across all parts of campus to sustain and expand the visibility and impact of the work of UMEI."
Bartlett joined U-M's chemistry department in 2008, after completing the President's Postdoctoral Fellowship at the University of California, Berkeley. He received his Ph.D. in inorganic chemistry from the Massachusetts Institute of Technology in 2005, and earned his undergraduate degree at Washington University in St. Louis.