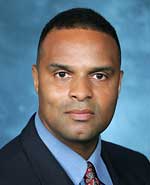 Faculty members honored with Arthur F. Thurnau professorships for outstanding contributions to undergraduate education will retain the title throughout their University careers after the Board of Regents approved the change Feb. 17.
The regents extended Thurnau professorships from the previous three-year appointments to honor faculty members who have made a career commitment to undergraduate education; underscore the University's respect for and commitment to undergraduate teaching; and enhance the visibility and influence of the scholars.
While Alec Gallimore, Annemarie Sullivan Palincsar, Thad Polk, Peter Sparling, Steven Wright and Georgette Zirbes comprise the first class of faculty to retain their professorships for as long as they serve the University, previous Thurnau honorees still at U-M will have their appointments extended as well.
"This University cares deeply about the quality of undergraduate education," Interim Provost Edward Gramlich says. "The Thurnau professorship program is extremely successful in recognizing excellent undergraduate teaching, and the recommendation to extend these appointments will strengthen the program significantly by providing this long-term honor for our best undergraduate teachers."
The professorships are named after Thurnau, a student at U-M from 1902-04. Thurnau wished to return to the University something of the value he gained from being an undergraduate on campus. The Thurnau Charitable Trust, established through his will, provides each honoree with a one-time grant of $20,000.
Gallimore, professor of aerospace engineering, College of Engineering (CoE), and associate dean for academic programs and initiatives, Horace H. Rackham School of Graduate Studies, is credited with enhancing the senior-level systems design course, AERO 438. In the course, students are exposed to the latest concepts, practices and technologies in space mission planning and must develop and present group projects in response to actual NASA missions.
He also directs the Michigan Space Grant Consortium, which, among its activities, sponsors student fellowships and K-12 teacher training and incentive programs.
"As an award-winning teacher, Professor Gallimore has made impressive contributions to the teaching of aerospace engineering students," his award citation says. "His teaching record is also distinguished by the wide variety of courses that he has taught over the last 10 years; his recruitment of undergraduate minority students; and his efforts to extend engineering's reach through public service."
Colleagues and students praise Palincsar, the Jean and Charles R. Walgreen, Jr. Professor of Reading and Literature and professor of education, for teaching excellence. A fellow professor says Palincsar prepares thoughtful, capable practitioners committed to the learning of all students. One of her School of Education students says Palincsar helped her change the way she views training and encouraged her to set high goals.
"A foremost leader in literacy education, Professor Palincsar has modeled best teaching practices to prospective elementary teachers for over 20 years," her nominators say. "Her teaching has influenced hundreds of undergraduates, many of whom are now elementary teachers themselves."
Polk, associate professor of psychology, LSA, and associate professor of electrical engineering and computer science, CoE, is committed to students beyond just their academic performance, colleagues say. He regularly invites groups of students for coffee or dinner at his family's home, and his instruction in teaching Introduction to Cognitive Psychology, a 300-student course, has garnered Polk near-perfect student ratings and an Excellence in Education Award from LSA.
"I was able to receive training from him in everything from literature searches to data analysis," one of his students says. "Receiving this level of training as an undergraduate was a unique experience that proved to be invaluable."
Sparling, professor of dance, School of Music, demands nothing less than excellence, but also does everything in his power to make it possible, says one of his students. Students in his Videodance course study historical and contemporary dance-film collaborations and then compose, edit and present their own works integrating dance and video. A mentor of hundreds of dancers who perform for national companies, he recently created an advanced class for students focused on solo performance.
Lauded by colleagues and students alike for his choreography, Sparling has spent more than 20 years inspiring and mentoring undergraduates studying dance, according to his colleagues. "His students are inspired by his active involvement in the field of dance and by his commitment to interdisciplinarity," a fellow professor adds.
Wright, professor of civil and environmental engineering, CoE, has received numerous teaching awards from the U-M chapter of the American Society of Engineering, Department of Civil and Environmental Engineering, CoE and the University. A colleague says Wright did not receive the awards for accommodating students unduly; instead he challenges and teaches and enables them to realize their full potential.
Wright's teaching inspired one particular student, who says, "Dr. Wright's passion for the subject, demeanor with students and creativity in the classroom resulted in the creation of one of those rare courses that challenged me and left me wanting to know more."
Zirbes, professor of art, School of Art & Design, is an exceptional motivator who spends long hours attempting to enhance the learning experience and to engage students of varied skills and interest, one of her students says
Called a vocal and dependable advocate for achieving the highest quality of education by Dean Bryan Rogers, Zirbes has been active in curriculum reforms and recently helped create a new course for senior undergraduates.
"She is an extraordinary teacher and innovator within her field, sharing with students her passionate love for clay and her endless repertoire of technical expertise," a colleague says. "She expects a great deal from her students and they proudly produce highly skilled, intelligent work under her guidance."
Tags: