Actress Diane Guerrero discusses immigration issues, voting at summit
Actress and activist Diane Guerrero discussed the lasting emotional impact of her parents' deportation, and the importance of voting and civic engagement in creating change at the kick-off event for the University of Michigan's annual Diversity, Equity and Inclusion Summit.
In a conversation moderated by author and Pulitzer Prize-winning journalist Leonard Pitts Jr. at the Power Center on Monday, Guerrero, who starred in "Orange is the New Black" and "Jane the Virgin," chronicled the trauma of enduring her parents' deportation to Colombia when she was 14 years old.
As detailed in her memoir, "In the Country We Love: My Family Divided," Guerrero said she came home from school one day and her parents were gone. A neighbor said immigration officials had taken them. No one from the government inquired about her after taking her parents.
"I was sort of just forgotten. It was as if I really didn't exist in the eyes of the law even though I was born here and I was here," Guerrero said.
Separation from one's family results in a "lifetime of trauma," she said, adding she experienced anxiety and depression.
"Your self-esteem is shattered," she said. "You think you don't matter to your country. You start thinking you don't matter to your parents or your family. You start thinking you don't have a place in the world, that you don't belong here."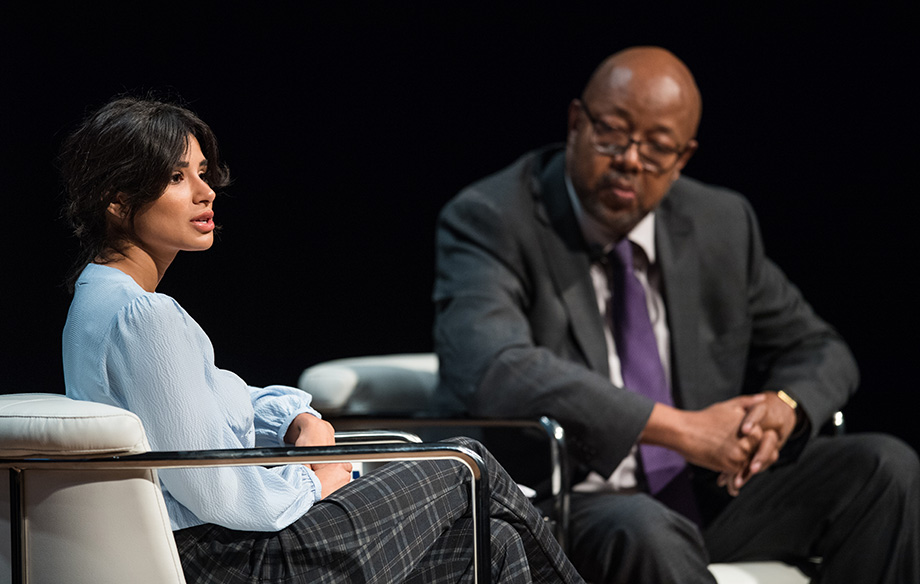 Actress and activist Diane Guerrero related her personal experiences in a discussion with Pulitzer Prize-winning columnist Leonard Pitts Jr. (Photo by Austin Thomason, Michigan Photography)
Guerrero, who was inspired to tell her story amid the anti-immigrant rhetoric of the last presidential election, described the minimal pathways and the difficult process for immigrants to gain legal U.S. citizenship.
Noting the upcoming election season, Guerrero spoke to the pressing need for comprehensive immigration reform, and the importance of young people voting.
"We have this history in this country of only a certain amount of people voting, and young people, especially, leaving it up to the adults," she said. "But it's really our future that we need to think about. So we need to be participating as much as other people who have been voting for a really long time."
In an effort to bring new voices into a movement or community, especially in college, Guerrero highlighted the importance of using one's voice and working together.
"You just have to reach out, you just have to look and see … who else has a message that you want to amplify," Guerrero said. "Join forces. Unity is key."
"I think that all you have to do is reach out. And don't be afraid to use your voice, no matter how many people tell you not to."
Watch a video of the discussion by Diane Guerrero and Leonard Pitts Jr.