Six faculty members have been honored for outstanding contributions to undergraduate education as this year's recipients of Arthur F. Thurnau professorships. The appointments, approved Feb. 17 by the Board of Regents, are titles the six will retain throughout their careers at the university.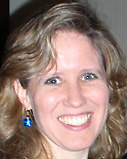 This year's recipients are Amy Cohn, Stephen DeBacker, Mika LaVaque-Manty, Barry Rabe, Melanie Sanford and Colleen Seifert. Descriptions of their work are taken from recommendations provided to the regents by Provost Phil Hanlon.
Cohn, associate professor of industrial and operations engineering, College of Engineering, is lauded for a firm commitment to undergraduate teaching and the use of innovative learning strategies. Colleagues say she tirelessly works to engage students, including through her Introduction to Optimization Methods course, in which she implemented a new model for office hours that has students work in groups to help one another solve problems. One student said that Cohn "is a facilitator for student learning who allows them to understand and learn from their mistakes." Cohn is a member of the Commission on Undergraduate Engineering Education, and faculty adviser for the Society of Women Engineers, the student chapter of the Institute for Industrial Engineers and the Engineering Global Leadership Honors Program.
DeBacker, professor of mathematics, LSA, has been a major force for curricular development and is "legendary in his achievements as an adviser and counselor to undergraduates." Colleagues attribute the dramatic increase in the number of majors and minors in mathematics over the past six years in large part to DeBacker's work in revamping first- and second-year undergraduate courses and to his efforts to retain undergraduates who demonstrate enthusiasm in entry-level math courses. He has played a central role in the department's advising system and works to foster a strong sense of community among students. He also coordinates the Undergraduate Math Club. In a letter of support, one student noted that DeBacker "inspired deep mathematical contemplation" despite his "reputation for giving especially difficult homework."
LaVaque-Manty, associate professor of political science and associate professor of philosophy, LSA, is "a tech geek" who "loves to teach," colleagues say. LaVaque-Manty, whose "Introduction to Political Theory" class was noted by President Mary Sue Coleman in her State of the University address, is known for his cutting-edge pedagogy and technological innovation. In his classroom, he uses live broadcasts, podcasts and the online teaching system LectureTools to actively engage students and to create the feeling of a small classroom in a large lecture hall. He also plays a central role in promoting teaching innovation in political science and at the university, more broadly. He regularly is involved in collegewide initiatives on teaching, and generously mentors colleagues on the use of instructional technology.
Rabe, professor of public policy, Gerald R. Ford School of Public Policy; professor of environmental policy, School of Natural Resources and Environment; and professor of environment, LSA, is the creator of the Program in the Environment (PitE). Since it was launched in 2002, PitE has become the fastest growing undergraduate unit in LSA, attracting more than 400 students, and it greatly has expanded the size, scope and relevance of the environmental offerings at U-M. He actively has recruited practitioners to teach original classes and advised other professional schools and academic units in creating new undergraduate course offerings and programs. Rabe continuously has chosen to teach a broad range of undergraduate classes. A student described his classroom as "a dynamic synthesis of relevant historical content and contemporary case studies."
Sanford, professor of chemistry, LSA, is noted for her dedication and skill in helping students learn the rigors of scientific research and experimentation in the classroom and the lab. She single-handedly initiated efforts to revamp the advanced organic chemistry undergraduate lab based on the fact that changes in research had far outpaced the rate of change of undergraduate lab manuals. Colleagues have identified Sanford as an "exceptional research mentor for students from traditionally underrepresented areas in science," due to her work with the Research Experiences for Undergraduates and the Women in Science and Engineering programs. She also has worked to expand the "Science Saturday" model, a highly successful program designed to introduce precollege students to science topics, so that it includes chemistry as well as physics.
Seifert, professor of psychology, LSA, has been lauded as "one of those rare individuals who really can do it all." Her commitment to undergraduate education is evident in that for several years she has been the only tenured faculty member teaching Psychology 111, one of LSA's most popular gateway courses. As director of the undergraduate honors research program, she encouraged colleagues to identify a diverse group of promising honors students, with the goal of doubling (from 30 to 60) the number of senior undergraduates. During the last year that Seifert was the program's director, 80 theses were completed. Now as chair of the Psychology Student Academic Affairs office, Seifert is in the process of undertaking a curricular review with the undergraduate committee of the 200 level gateway course and laboratory course for the undergraduate program.
Each year Thurnau Professorships recognize and reward a select group of tenured faculty members for their outstanding contributions to undergraduate education. Criteria for the award include a strong commitment to students and to teaching and learning, excellence in teaching, innovation in teaching and learning, a strong commitment to working effectively with a diverse student body, and a demonstrable impact on students' intellectual and/or artistic development.
The professorships are named after alumnus Arthur F. Thurnau and supported by the Thurnau Charitable Trust, which was established through his will. Recipients receive $20,000 to support teaching activities, including travel, books, equipment and graduate student support.
Tags: