Pollen universe revealed in large-scale ceramic sculptures
Don't Miss
"Hidden Worlds: The Universe of Pollen Revealed in Large-scale Ceramic Sculptures," artist Susan Crowell's exhibition of colorful ceramic pollen sculptures, is on display in the Matthaei Botanical Gardens conservatory.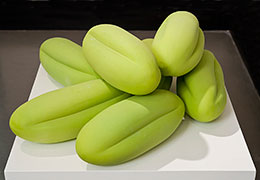 "Sycamore (Plantanus) pollen" is from the Matthaei Botanical Gardens exhibit "Hidden Worlds: The Universe of Pollen Revealed in Large-scale Ceramic Sculptures." (Photo by Susan Crowell)
The sculptures reveal the complexity and variety of these tiny plant structures. The exhibit is presented daily from 10 a.m.-4:30 p.m. (Wednesdays until 8 p.m.) April 2-May 8 at 1800 N. Dixboro Road.
Crowell, a Fulbright scholar, is professor of art in the Penny W. Stamps School of Art & Design and professor in the Residential College, LSA. She went deep into the world of flowers for inspiration. The sculptures, 2 feet or more in diameter, reveal a universe of surprising beauty unseen by many.
To honor the 80-year-old American agave that bloomed at Matthaei in 2014 Crowell, created several agave pollen sculptures based on electron microscope scans of images taken by U-M imaging labs. The agave pollen sculptures will occupy the space left behind by the American agave, which died in 2015 and was removed last winter.
Dewey Lecture focuses on partnership
Communities and Universities in Partnership is the theme guiding the 2016 Dewey Lecture program, featuring a keynote lecture by Ypsilanti Mayor Amanda Maria Edmunds. The program is from 11:30 a.m.-1:30 p.m. April 1 in Rackham Assembly Hall.
Edmunds is founder and executive director of Growing Hope, and a U-M and Ginsberg Center alumna. The event offers a chance to hear representatives involved in university-community partnerships discuss their challenges, discoveries and insights; to engage in discussion over shared lunch; and to learn from Edmunds' experience in the university and community spheres.
It is presented by the Ginsberg Center in partnership with the Vice Provost for Global and Engaged Education James Holloway. For more information and to register, go to tinyurl.com/go9y9xz.