Don't Miss: Ann Arbor Film Festival returns to the Michigan Theater
The 54th Ann Arbor Film Festival is longest running independent and experimental film festival in North America, receiving more than 3,000 submissions annually from more than 70 countries.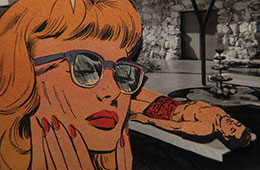 Organized in 12 chapters, Lewis Klahr's film "Sixty Six" is the culmination of a decades-long work in collage filmmaking. It will be presented at 1:15 p.m. March 20 in the Michigan Theater Main Auditorium. (Image courtesy of Lewis Klahr)
The festival returns March 15-20 to the Michigan Theater. It features 40 programs ranging from the Saturday morning 'Family Friendly' program to the LGBTQ spotlight and the Expanding Frames educational workshops and discussions.
The opening reception from 6-8 p.m. March 15 precedes the first screening of the season at 8:15 p.m.
Highlights of the 54th festival include a first look at the newly restored works of festival favorite, Curt McDowell. The festival also will present 11 feature-length films, including Jem Cohen's "Counting" and Lewis Klahr's 12-part feature-length anthology "Sixty Six." The festival also will feature several films by Chantal Akerman (1950-2015), who contributed to feminist and avant-garde cinema.
The University of Michigan Penny W. Stamps School of Art and Design is a major AAFF partner. Other supporters include the National Endowment for the Arts, The Michigan Council for the Arts and Cultural Affairs, the Michigan Theater and the Michigan Film & Digital Media Office.