Don't Miss: UMS season blends tradition with Renegade events
The University Musical Society's new season includes a New York Philharmonic orchestral residency, Renegade events featuring risk-taking artists, and Juliette Binoche on stage in the International Theater Series.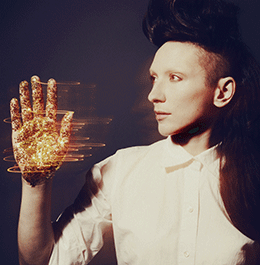 Shara Worden, a.k.a. My Brightest Diamond, opens the University Musical Society with a performance at 8 p.m. Friday at Downtown Home & Garden and Bill's Beer Garden in Ann Arbor. (Photo courtesy of Shara Worden)
The 137th season opens with Shara Worden, a.k.a. My Brightest Diamond, performing at 8 p.m. Friday at the Downtown Home & Garden and Bill's Beer Garden, located at Liberty and Ashley streets.
Ypsilanti High School graduate Worden has toured with the Decemberists. With one foot in classical music and the other in clubs, she has sung Gorecki's Third Symphony, led a marching band on the streets of the Sundance Film Festival, and performed a Baroque opera she wrote — all within a month.
On vocals, guitar and keyboards, Worden is joined by Nathan Lithgow on bass, Brian Wolfe on drums and the Detroit Party Marching Band. The venue opens to UMS ticket holders at 5:15 p.m.
"We're particularly excited about this season's Renegade events, which showcase artists who, in their own time and place, change expectations about what the performing arts can look like," says Sara Billmann, UMS director of marketing and communications. More Renegade events include the Sphinx Virtuosi, founded by new School of Music, Theatre & Dance Dean Aaron Dworkin.
Binoche stars in four performances of "Antigone" Oct. 14-17 at the Power Center, in a new translation by former U-M Professor Anne Carson. October also marks the kickoff to a five-year partnership with the New York Philharmonic that includes performances and residency activities coinciding with Homecoming Weekend.
"We bring a lot of great artists who perform mostly from the Western classical tradition. But we also love the contemporary arts and want to introduce some of the exciting art-makers of our time to Ann Arbor," Billmann says. UMS also seeks artists interested in working with students.
UMS will partner with the Michigan Opera Theatre to bring American Ballet Theatre's production of "The Sleeping Beauty" to the Detroit Opera House for four performances March 31-April 3.
For more information, go to ums.org or call 734-764-2538.