Art Fair is back with au courant and traditional styles
Topic: Arts & Culture, State & Community
Andy Warhol-like pop art and "Miami Vice"-style hot pinks and turquoises are back, inspiring some works at the 2015 Ann Arbor Art Fair Wednesday through Saturday.
+ more information
As trends continually change, these retro influences are fresh again, says Maureen Riley, executive director of the Ann Arbor Street Art Fair, the original fair organization. But she adds that fair goers will continue to spot strong traditional work, when the fair returns this week.
"There are many new artists this year as well as old favorites with new work," Riley says.
A half-million art lovers are expected to attend, with roughly 1,000 artists participating. Hours are 10 a.m. -9 p.m. Wednesday-Friday and 10 a.m.-6 p.m. Saturday. Children's activities and live music also are presented.
The four official fairs are the Original Ann Arbor Street Art Fair, the State Street Art Fair, the Ann Arbor Summer Art Fair and Ann Arbor's South University Art Fair.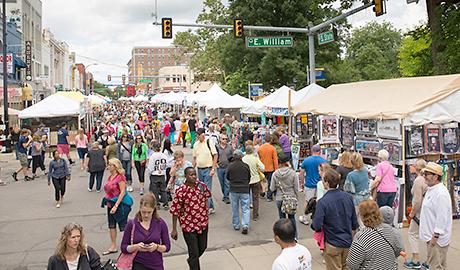 Crowds fill State Street near William Street during the 2014 Ann Arbor Art Fair. (Photo by Scott C. Soderberg, Michigan Photography)
Fair week opens with the Townie Street Party from 5-9:30 p.m. Monday at a temporary location on North University between Fletcher and Thayer Streets. Proceeds benefit the educational and community outreach activities of the Ann Arbor Street Art Fair.
The music starts at 5:30 p.m. with Rollie Tussing & the Midwest Territory Band, followed by "Hot Rod Lincoln" guitarist Bill Kirchen from 7-9 p.m. The Townie Party also offers food and refreshments, the Kids' Art Fair and Art Activity Zone. Admission and activities are free.
The event coincides with the Ann Arbor Mile-Dart for Art. This 1-mile run is at 6 p.m. It welcomes top runners to compete for cash awards in the Dart for Art Elite Division, as well as local athletes, families or anyone who wants to enjoy a run or walk in downtown Ann Arbor. There's also a corporate or department team division. Register at AnnArborMile.com.
Riley notes there is an Art Fair location shift. Activities typically centered in the Ingalls Mall area on the U-M campus will shift south toward the Diag. "Because of that construction there won't be a fountain stage or fountain food court. But we'll be back to our normal footprint with all those offerings in 2016," she says.
Another returning Art Fair tradition is the 2015 Penny W. Stamps School of Art & Design Alumni Juried Exhibition. This year's theme is "Puzzles, Riddles and Enigmas." It is shown through Aug. 1 in the Jean Paul Slusser Gallery on North Campus, 2000 Bonisteel Blvd., and Work•Ann Arbor, 306 S. State St., along the Art Fair exhibit area. The show features the work of established alumni and recent graduates.
Also returning is The BioArtography Project run by the Department of Cell and Developmental Biology. Faculty, staff and student volunteers will staff Booth 112 on East University Avenue where artistic microscopic tissue photography will be on sale.
Proceeds support travel to national and international scientific meetings for graduate students and postdoctoral fellows in the biological sciences, says Deborah Gumucio, James Douglas Engel Collegiate Professor and interim chair, Department of Cell and Developmental Biology; professor of internal medicine; and director, BioArtography Project.
The project is headed by the Department of Cell and Developmental Biology. It is an offshoot of the Center for Organogenesis.
Among other U-M units contributing to the fair is the U-M Health System's Home Care Services. Through its Art Chairs service, it provides complimentary use of wheelchairs for those that need assistance moving about the fairs. There are three Art Chairs booths: North University at Fletcher in front of the Michigan League, State Street at Madison near the Michigan Union, and Main Street at William.
"You can drop off and pick up the chairs at any of our locations, beginning when the fair opens," says Amy Garber, Art Chairs coordinator. "This is a great option for people with mobility issues or those who cannot walk the length of the fair easily." For more information, email Garber at amyg@umich.edu or call 734-747-2569.
The Art Fair was established in 1960 by the Ann Arbor Art Association, the University of Michigan, and two business groups.