Uncovering Siberian mammoth bones outside the comfort zone
2014 senior profiles
Senior Chris Whalen had already decided to pursue a career in paleontology but wasn't sure how he would handle long stretches of fieldwork in remote locations.
So he tested his limits by spending a month in Siberia with his professor and several other U-M students, searching for woolly mammoth bones on the windswept tundra.
"That trip had a profound impact on me," said Whalen, who recently accepted a position in the doctoral paleontology program at Yale University. "Any doubts I had about how I would handle those situations were resolved."
Senior Caleb Fogel was one of four U-M students on that trip in August 2012, led by U-M paleontologist Daniel Fisher. Fogel came away knowing that field work — including occasional forays into places that force him out his comfort zone — will be a central part of his life.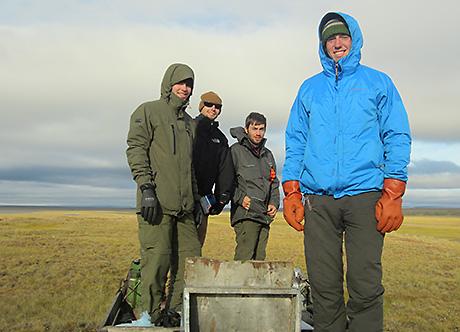 Seniors Chris Whalen, left, and Caleb Fogel, right, join recent U-M graduates Ethan Shirley and Zac Calamari on the tundra, a few miles from the Arctic Ocean in northern Siberia. (Photo by Daniel Fisher)
"I want that kind of challenge in my life, because it helps to keep things interesting," he said. "The Siberia trip was by far the most significant experience I had at Michigan, and I don't know where else I could have gotten that. I don't know anyone else who's gone to Siberia for a month to dig up mammoth fossils."
Whalen, Fogel and the others slept in tents or in crude, wooden hunting shacks. They cooked over wood fires or ate uncooked fish and thin slices of raw, frozen horse meat.
Clouds of mosquitoes. A foreign language and culture. No showers, toilets or running water for weeks at a time. No Internet or email. Hacking mammoth teeth from melting permafrost with hatchets.
"I was concerned about being isolated in a foreign country for a long period of time and having to live a camping type of life for most of that time. I'd actually say I was pretty terrified of that," said Whalen, 22, of West Bloomfield, who is graduating with a double major in earth and environmental sciences and ecology and evolutionary biology.
"But now I know I can handle it," he said. "Any fieldwork that I'll be doing in my career can't be much more extreme than what I experienced during that trip."
Fogel, 22, of Ann Arbor, is graduating with a double major in earth and environmental sciences and the Program in the Environment and plans to pursue a career in forest ecology.
"The trip definitely solidified in my mind the fact that I want to spend a lot of my time outdoors, including in remote areas," he said. "I also know that I don't ever want to eat raw horse again."