University Musical Society announces 2016-18 faculty fellows
The University Musical Society has announced the 2016-2018 fellows who will participate in the Mellon Faculty Institute on Arts-Academic Integration.  
The UMS Mellon Institute on Arts-Academic Integration, organized by UMS and LSA, explores ways for faculty to meaningfully incorporate performance and arts-based learning into their teaching. The program is made possible through a grant from The Andrew W. Mellon Foundation.
The faculty institute is a two-year experience. In year one, faculty fellows participate in a two-day intensive workshop and a series of professional development seminars and workshops to develop a new or revised course that incorporates the performing arts and arts-based learning strategies. In year two, fellows can continue to participate in workshops as they implement their teaching projects.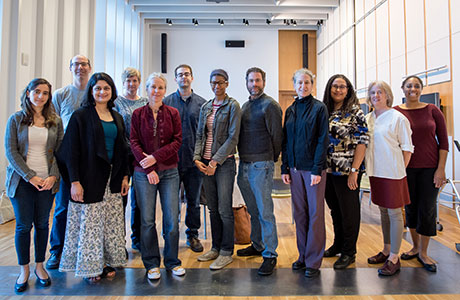 The faculty fellows are (from left) Ana Sabau, Jesse Hoffnung-Garskof, Madhumita Lahiri, Laura Olsen, Karein Goertz, Gavin Arnall, Reighan Gillam, ​Martin Strauss, Netta Berlin, Naomi André, Elizabeth Goodenough and ​Kira Thurman. (Photo by Jesse Meria)
2016-18 UMS Mellon Faculty Fellows:
Naomi André
Associate professor of women's studies; associate professor at the Residential College; associate professor of Afroamerican and African studies, LSA.
André's research focuses on opera and issues surrounding gender, voice and race. She has written about such diverse topics as Italian opera, Schoenberg, women composers and teaching opera in prisons.
Gavin Arnall
Assistant professor of romance languages and literatures, LSA.
Arnall's research and teaching interests converge at the intersection of aesthetics, politics, and philosophy, specializing in modern and contemporary Latin America.
Netta Berlin
Lecturer in classical studies, LSA.
Berlin's primary teaching focus is in ancient Greek and Latin, typically centered on aspects of ancient myth and its reception and organized around a literary work, a particular figure, or a unified body of myths.
Jesse Hoffnung-Garskof
Associate professor of history and of American Culture, LSA.
Hoffnung-Garskof is a specialist on the history of the Spanish-speaking Caribbean and Latina/o peoples in the United States. He teaches courses on Latina/o History, Immigration Law, and the history of Latin music.
Reighan Gillam
Assistant professor in communication studies and Afroamerican and African studies, LSA.
Gillam's research and teaching examine the relationship between race, visual images, and power in media produced by Afro-Brazilians in São Paulo, Brazil.
Karein Goertz
Lecturer in the Residential College, LSA.
Goertz teaches undergraduate-level courses in German language and literature, as well as seminars in English that focus on holocaust literature, urban centers of modernism, literature of cities and literature of walking.
Elizabeth Goodenough
Lecturer in the Residential College, LSA.
Goodenough teaches courses in literature that are cross-listed with English, Program in the Environment and International Studies. She established the Landscapes of Childhood Series at Wayne State University Press and is widely published in Childhood Studies.
Madhumita Lahiri
Assistant professor of English, language and literature, LSA.
Lahiri's teaching explores the global currents of culture in and around English language literary expression from the early 20th century to the present.
Laura Olsen
Arthur F. Thurnau Professor, academic program director of the Undergraduate Program in Biology, and professor of molecular, cellular, developmental biology and of ecology and evolutionary biology, LSA.
Trained originally as a cell biologist, Olsen's research has focused on peroxisomes, which are small organelles that are critical for life in all plants and animals. This past term, she co-taught a new interdisciplinary course called "Health, Society, and Biology: What is Cancer?" and is working to increase the integration of arts and creativity in the course.
Ana Sabau Fernandez
Assistant Professor of romance languages and literatures, LSA.
Sabau's research and teaching focus on 19th-century Latin America and include both written and visual culture. She teaches courses on Latin American Cultures, including one on Feminism in the Hispanic World, and another on Ruins, Archaeology, and Culture in Latin America.
Martin Strauss
Assistant Professor, mathematics, LSA; and professor of electrical engineering and computer science, College of Engineering.
Strauss's research interests include big data algorithms and privacy. In recent years, Strauss has worked to incorporate manipulative and kinesthetic activities, including fine art and dance into his University teaching, outreach, and enrichment presentations.
Kira Thurman
Assistant professor of Germanic languages and literatures, and assistant professor of history, LSA.
Thurman teaches courses on music and national identity, racism in Europe, Germany and the black diaspora, global hip hop, Richard Wagner, and global cultural encounters since 1800.