UMS employee finds creative outlet in knitting
Liz Stover Rosenthal's sweater is patterned in shades of maize, punctuated by cornflower-blue stripes. It's subtly spirited — fitting for the long-time Ann Arborite, Michigan grad and current associate programming manager at the University Musical Society.
"I love this sweater. I bought the yarn from a woman who lives on the west side of Michigan and dyes it herself into these awesome, bright colors. I turned it into this vintage-looking game-day sweater, and I had so much fun making it," says Rosenthal, who estimates that she's made at least 20 sweaters in the last few years.
Rosenthal is a self-taught knitter. She joined a friend's knitting group without knowing how to make anything grander than a scarf.
"Everyone had such different knitting skills, so it was a great group activity with built-in teachers. One friend knew how to do hats, so she taught us how to knit in the round. Together we learned how to make sweater sleeves. It's a fun creative, communal hobby," Rosenthal says.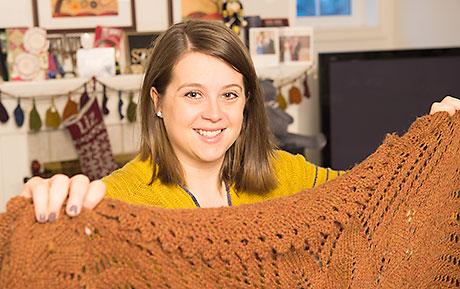 Liz Stover Rosenthal is a self-taught knitter. (Photo by Daryl Marshke, Michigan Photography)
Rosenthal is no stranger to collaboration. She was involved with the Michigan Pops Orchestra during her undergraduate years and became executive director of the orchestra her senior year. She even met her husband there — he played viola, she played violin. They sat next to each other in the orchestra "and have been together since," says Rosenthal, smiling.  They were married in October.
"I enjoyed the community of orchestra but never had the drive to practice enough and spend my life performing," says Rosenthal. Nevertheless, she enjoys seeing performances, and gets to attend many as part of her job with UMS.
As associate programming manager, Rosenthal helps choose artists and performers, plans logistics for their visits to Ann Arbor, and produces shows.
Recently she's worked on the Choral Union series, the dance series, and a concert and recording project of Milhaud's "Oresteian Trilogy" with the School of Music, Theatre & Dance, which was just nominated for a Grammy Award.
She especially enjoys when her job calls for her to act as a lead coordinator for a show.  In that role, she sees a performance through from beginning to end, organizing everything from the initial contract to dress rehearsals to an airport drop-off.
"Being that close to an artist, to see how they operate and prepare, is a special privilege. I get to watch someone's artistic process unfold," she says.
Rosenthal also produces program books to accompany each performance and has been working to digitize the UMS archive of old programs, along with press clippings and photos, on www.umsrewind.org.
The weekly Spotlight features faculty and staff members at the university. To nominate a candidate, email the Record staff at urecord@umich.edu.
"Someone who went to a concert in 1940 wrote us, saying that he was looking at its entry online and remembered an encore that we didn't have listed. It's incredible how the community can contribute and keep it growing," she says.
This winter, Rosenthal hopes to see more dance performances. "Though my background is in classical music, I've fallen in love with dance since I started working here."
While she's excited for UMS' winter offerings, like Kyle Abraham's dance company's performance inspired by civil rights movements in South Africa and the United States, Rosenthal isn't looking forward to another Michigan winter.
"There's not a winter day when I won't be wearing a knit hat, and a cozy sweater. Even a freezing day feels a little bit better when you're wearing a hand-knit sweater," she says.