UHR reduces energy, cuts costs to earn Platinum Certificate
University Human Resources is helping reduce waste, save energy and cut utility costs on campus through simple equipment upgrades and behavior adjustments as part of the university's Sustainable Workplace program.

With the help of the HR Green Team and the support of Laurita Thomas, associate vice president for human resources, UHR advanced its Gold Sustainable Workplace Certificate earned last year to a Platinum Certificate by removing 73 space heaters from areas in Wolverine Tower and the Administrative Services Building.
Removing the heaters will save an estimated 17,600 kilowatt hours of electricity and avoid more than $1,400 in monthly energy costs. The avoided energy is equivalent to emissions from burning 1,366 gallons of oil.
"While many staff members have enjoyed using space heaters, they understand the financial and environmental benefit to the university in reducing our energy use and costs, and supporting many of the principles and initiatives that Planet Blue promotes across U-M," said Kay Pauley, workplace integrator, who led the removal project.
Pauley worked with Kevin Morgan, a regional energy manager of the Planet Blue Operations Team, to rebalance temperatures in spaces throughout the buildings to greatly reduce the need for space heaters.
Morgan and facilities maintenance staff are working with HR staff to identify building problems that affect occupant comfort including looking at opportunities to relocate thermostats.  
The Sustainable Workplace program creates a culture of sustainability by building awareness and encouraging sustainable behaviors, and supports the university's 2025 sustainability goals and its overall commitment to sustainability, known as Planet Blue. 
Since its launch in 2012, the Sustainable Workplace Certification program now has 100 offices participating, with nearly 4,000 staff engaged. Each office has at least one ambassador leading the charge to make their workplace greener through efforts to save energy, reduce waste and increase awareness of sustainability on campus.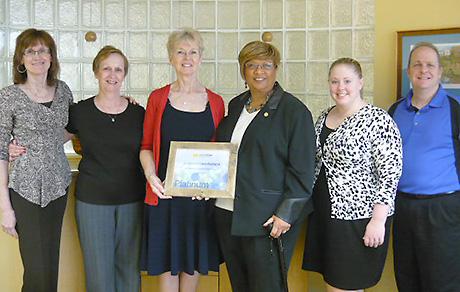 Laurita Thomas (third from right) presents the Platinum Certificate to members of the UHR team involved with the Sustainable Workplace program. They are, from left, Denise Stegall, Rose Bernal, Kay Pauley, Becca Hanson and Chris White. (Photo by Anya Dale)
Standard best practices of the program include setting computers to energy-saving modes, powering down machines at the end of the day, reducing printing, tracking paper use, avoiding disposable kitchenware and expanding recycling areas and signage.
Roughly a quarter of the points awarded toward certification are related to increasing understanding of sustainable best practices on campus and engaging staff to become part of the effort.
Additionally, departments are using PrintSmart, a free service offered by the university that helps units streamline their equipment, reducing the number of printers and associated energy waste, while improving their overall equipment performance.
Simple measures to reduce energy use include energy efficiency settings on equipment, using motion-sensing power strips, and turning off lights. To reduce the amount of waste sent to the landfill, staff can make sure each trash can has an accompanying recycle bin and descriptive signage educating individuals on accepted materials.  
To date, sustainable actions adopted under the workplace certification recommendations have resulted in the avoidance of more than one million pounds of carbon emissions over the course of a year. That is equal to removing 100 passenger vehicles from the road or the energy used to power 44 homes for a year.