Top accomplishments: Google partnership
A tribute to President Mary Sue Coleman
Big ideas trigger big reactions, which can run the gamut from enthusiastic to fearful. The University of Michigan's collaboration with the Google Books Library Project was no exception. To succeed it required bold leadership.
In 2002, when Google co-founder and U-M alumnus Larry Page proposed the book-scanning project, the library had already begun digitizing its print collection — some 7 million volumes, a large amount of them printed on acidic paper, which was certain to render them brittle and eventually unreadable.
The Google proposal promised to get the job done in years rather than centuries. But it was controversial: Publishers and authors' groups feared that their copyrights would be violated; other critics argued that the involvement of a for-profit company would undermine the transformative potential of library digitization.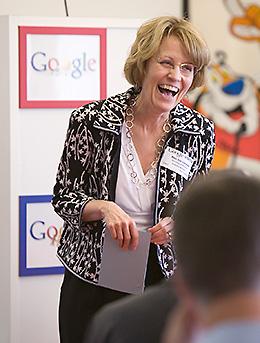 President Mary Sue Coleman visits the Ann Arbor Google office. (Photo by Lin Jones, Michigan Photography)
The support of the university's leadership was immediate and unwavering. Paul Courant, who as provost was an early champion of the project and who served as dean of libraries during most of its implementation, particularly credits President Mary Sue Coleman's very public advocacy.
"Mary Sue's enthusiasm not only facilitated Michigan's participation, but was also crucial in getting other major research universities to participate," he says.
That multi-institutional participation led to the 2008 creation of the HathiTrust Digital Library, a shared repository involving more than 80 libraries that today holds 11 million fully searchable volumes and 3.5 million readable-by-anyone public domain volumes.
At the height of the controversy, Coleman spoke before the Association of American Publishers, which was then suing Google in an effort to halt the scanning. To this skeptical if not hostile audience she said, "At its essence, the digitization project is about the public good. It transcends debates about snippets, and copyright, and who owns what when, and rises to the very ideal of a university — particularly a great public university like Michigan. This project is about the social good of promoting and sharing knowledge. As a university, we have no other choice but to do this project."
Litigation eventually found its way to Michigan. In 2011, the Authors Guild sued the university and several other HathiTrust participants, alleging copyright infringement. Coleman again rallied her colleagues to mount a vigorous defense, and in 2012, in a summary judgment for the defendants, the deciding judge unequivocally affirmed the university's position, and described the project as an "invaluable contribution to the progress of science and cultivation of the arts."