Susan Alcock appointed interim provost, vice chancellor at UM-Flint
Susan E. Alcock has been appointed interim provost and vice chancellor for academic affairs at the University of Michigan-Flint. The Board of Regents approved Alcock's appointment June 21. It begins July 1.
Alcock currently serves as special counsel for institutional outreach and engagement in the Office of President Mark Schlissel. She also is an Arthur F. Thurnau Professor and professor of classical archaeology and classics in LSA on the Ann Arbor campus.
"We are fortunate to have a person as accomplished as Sue Alcock serve in this important role," said UM-Flint Chancellor Susan E. Borrego. "Her strong academic background and deep knowledge of what makes our campus unique makes her an excellent choice to guide the exciting academic work happening on our campus.
"Our deans have worked very hard in developing a transformative academic affairs plan and Sue will certainly bring strong leadership that will support their great efforts and help move these plans forward."
Alcock completed her Bachelor of Arts summa cum laude at Yale University in 1983, and received a second B.A. degree in 1985 from the University of Cambridge, where she also received a Master of Arts and Ph.D. in 1989.
Alcock returned to U-M as a professor of archaeology and classics in July 2015, following her appointment as the director of the Joukowsky Institute for Archaeology and the Ancient World at Brown University, and as the Joukowsky Family Professor of Archaeology from 2006-15.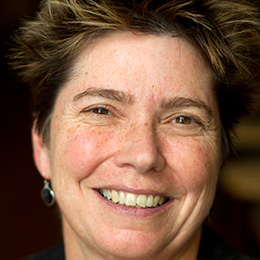 Susan Alcock
At U-M, she was an assistant professor from 1992-96, a research scientist in the Kelsey Museum of Archaeology from 1993-2005, a research affiliate in the Museum of Anthropology from 1994-2005, an associate professor from 1996-2002, a curator in the Kelsey Museum, and the John H. D'Arms Collegiate Professor of Classical Archaeology from 2002-05.
"In her role as special counsel for institutional outreach and engagement, Professor Alcock has led initiatives and projects focused on developing and leveraging faculty, research, and student and other connections between the three University of Michigan campuses, and with other higher education institutions across the state," said Borrego. "Her depth of experience and knowledge of the university provide her with the necessary foundation to undertake this important role at UM-Flint."
"I returned to Michigan in large part to work more with our regional campuses," said Alcock. "So, the opportunity to serve as Flint's interim provost is a more than exciting prospect for me. I look forward to working with the deans and faculty to continue the great work they have planned.
"My visits to the campus have always left me energized and engaged, and the community of Flint has always struck me as a most welcoming one. I am eager to get there and get going."
Alcock will serve in the provost role previously held by Douglas Knerr. UM-Flint will launch a national search to fill the role in the fall.