Science students look back on being mentored by the president
A tribute to President Mary Sue Coleman
When then-junior Tim Curran received an email that said he would be working with President Mary Sue Coleman though the U-M Mentorship Program, he wasn't sure if it was real. "I was shell-shocked. I thought, 'Is this a joke?'"
As an incoming freshman, Ben Sackett had a similar reaction. "She's from my hometown in Iowa, so I knew who she was even before I got to U-M, but I couldn't believe it."
When Aylin Golaszewski found out her freshman-year mentor would be Coleman, she was thrilled. "It was a huge deal, I was so surprised and excited. It'd be like hanging out with a VIP."
The U-M Mentorship Program matches several incoming freshman with a peer mentor and a faculty or staff member for their first semester on campus. Coleman has volunteered as a faculty mentor through the program for the last 10 years.
Coleman, who has served as university president since 2002 and holds appointments of professor of biological chemistry in the Medical School and professor of chemistry in LSA, often had mentees who were interested in the sciences, too.
Junior Siju Varughese, who is studying electrical engineering, greatly appreciated Coleman's knowledge and advice about studying science. "I was amazed at how much she knew about activities on campus and how involved she was."
Emmanuel Quaye, who recently graduated with his bachelor's degree in neuroscience and will be attending the School of Public Health in the fall, didn't know Coleman had a medical background. "She brought up that she has a Ph.D. in a science field, and we talked about our classes. You see her as the university president, but she was so understanding, empathetic, warm-hearted and open to dialogue."
Beyond offering advice on classes, programs and careers, Coleman took an active mentorship role. Each year, she invited her mentees into her house to make (and eat) pizza, a memorable experience for the mentees.
"We looked at her artwork, talked about her business trips and met her husband," Quaye says. "She was so welcoming. And the pizza was delicious."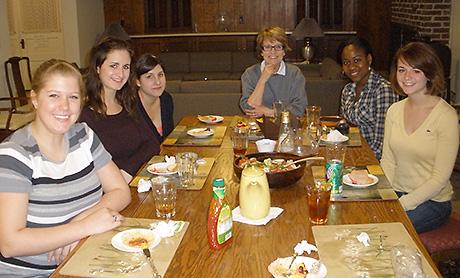 From left, Kelsie Holden, Gina Calco, Aylin Golaszewski, President Mary Sue Coleman, Lois Garba and Kelly Brown enjoy a pizza dinner at the President's House. (Photo courtesy of President Mary Sue Coleman)
Other events over the years included trips to Rocky Mountain Chocolate Factory and Stucchi's, Zingerman's-catered lunches in Coleman's office in the Fleming Building, U-M hockey games seen from the press box, excursions to Mosher-Jordan's dining hall, and football tailgates.
Coleman, who plans to retire in July, has had a profound impact on many of her mentees.
"She really cared about how we were transitioning to the university," Varughese says.
2009 participant Shelby Lewis says, "She had clearly chosen to be a mentor because she wanted to be, not for the sake of her image. She seemed genuinely concerned with the student experience, understanding it and improving it."
Peer mentor Curran especially enjoyed his experience of working with Coleman as a collaborator. "She always listened to the students and what they were interested in, and obviously she knows absolutely everything about the university. She really helped students make a successful transition onto campus."