School of Information senior engages in mental health advocacy
2016 senior profiles
Armed with a passion for mental health and an interest in user-experience design and information science, School of Information student Sonia Doshi set out to change the perception of mental health on campus and engage more students in advocacy.
She founded the Healthy Minds Student Leadership Coalition in 2014, which brings together student leaders who represent different communities from across campus to engage in research at the Healthy Minds Network, a mental health research team on campus.
"Implementing advocacy-based projects has been the most innovative and fulfilling aspect of my work in mental health," Doshi says. "There is this common notion that technology is detrimental to mental health, and many of the advocacy projects that I have developed have actively worked to counter that perception by utilizing technology as an incredible tool to educate and empower others to understand and take control of their mental health."
One of those projects is the annual Tinyshifts National Film Competition, which Sonia started with the coalition last year. Tinyshifts calls on college students from around the country to create brief films about how they cope with their mental health and then share those films through social media.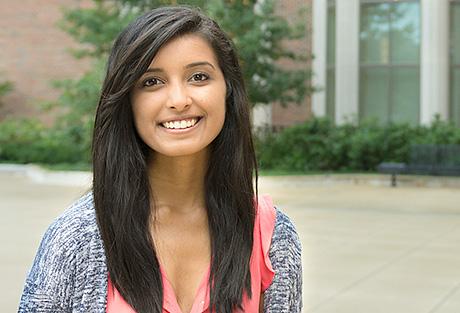 (Photo courtesy of Sonia Doshi) 
Sonia says her involvement with Tinyshifts led her to produce the first annual Mental Health Monologues in 2015.
Sonia has also led projects in student groups such as rEDesign (an entrepreneurial group for education reform), Kappa Theta Pi (a professional technology fraternity), and BLUELab (a sustainable engineering team serving international communities).
"Being a part of all of these entrepreneurial-centered groups has been incredibly impactful for me because I have been able to grow and develop as a leader and innovator while also making an impact both on campus and around the world," says Sonia.