Schlissel, Walberg remarks highlight Congressional Breakfast
President Mark Schlissel told a Washington, D.C., audience Wednesday that the university continues to have a huge impact on the state with its research activity.
Speaking to the 67th annual University of Michigan Congressional Breakfast, Schlissel pointed to the $1.5 billion in research expenditures last year and said many new ideas are coming as a result of that work.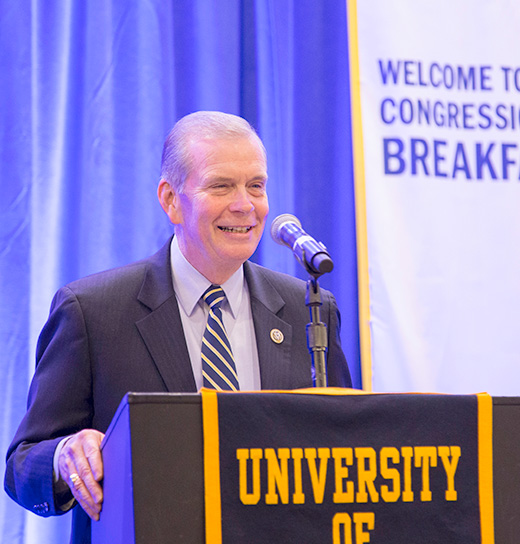 Rep. Tim Walberg delivers the keynote address at the annual Congressional Breakfast. (Photo by Laura Meyer)
"Over the past fiscal year, our research led to 444 new inventions and 172 U.S. patents," Schlissel said. "We also continued our decade-long trend of launching an average of one startup company per month based on discoveries made by our faculty and their students."
Schlissel also discussed other current topics, including sexual misconduct.
"Our entire community shares a commitment to look each other in the eye and say that we simply won't tolerate these types of behaviors at U-M," he said. The president also discussed initiatives to enhance free speech and civil discourse on campus.
Keynote speaker Rep. Tim Walberg, R-Tipton, complimented the university for its leadership on technology, and in particular sang the praises of its research on autonomous vehicles conducted at Mcity on North Campus.
"Mcity is truly one of a kind," Walberg said. "We need more collaborations like this between academia, government and industry."
Walberg also lauded the work U-M is doing to improve open and thoughtful dialogue between people of differing political viewpoints.
Other members of Congress who attended the event included Republican Reps. Jack Bergman of Watersmeet and Mike Bishop of Rochester; Democratic Reps. Debbie Dingell of Dearborn, Dan Kildee of Flint, Brenda Lawrence of Southfield, and Grace Meng of New York; along with U.S. Sen. Gary Peters, D-Michigan.
The annual breakfast is sponsored by the U-M Club of Greater Washington. Proceeds from the breakfast help provide scholarship support to D.C.-area students who want to attend U-M.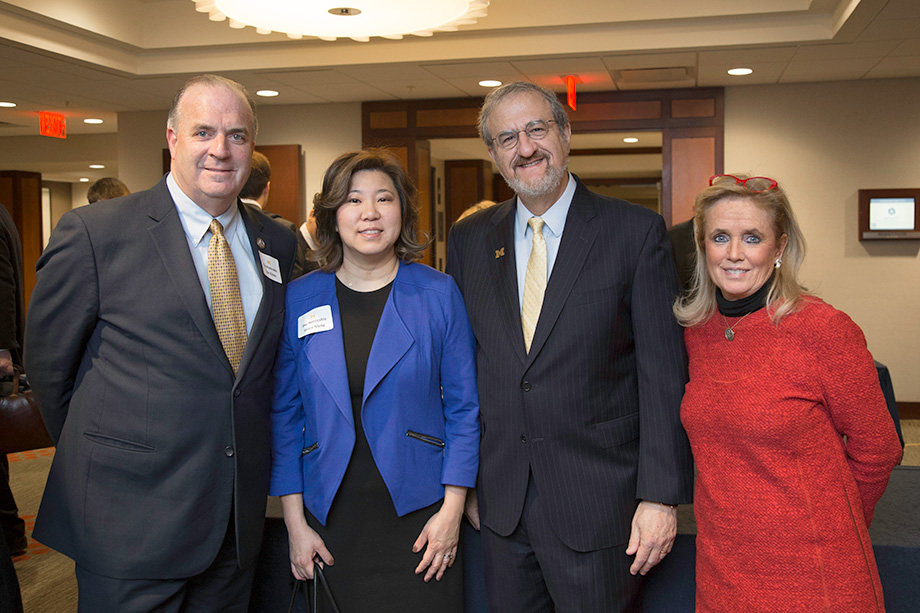 President Mark Schlissel with some of the members of Congress who attended the annual U-M Congressional Breakfast. From left: Reps. Dan Kildee and Grace Meng, Schlissel and Rep. Debbie Dingell. (Photo by Laura Meyer)