Schlissel makes case for federal research, student aid funding
President Mark Schlissel was in Washington, D.C., this week urging key lawmakers to reject proposed federal budget cuts that would do serious damage to the nation's research and education enterprise.
Following his participation in the semi-annual meeting of the Association of American Universities, Schlissel met with U.S. Rep. John Moolenaar, R-Midland, and House Speaker Paul Ryan, R-Wisconsin, to advocate for strong and sustained federal funding for scientific research and important student aid programs.
In his meeting with Moolenaar — Michigan's only member of the Appropriations Committee — Schlissel urged increased support for the National Institutes of Health, the largest federal funder of research at U-M. He also asked Moolenaar to champion funding for Pell Grants and other student aid that allows many high-need students to attend college.
"These programs are essential to helping more of our children graduate with a college degree and preparing a diverse workforce for the jobs of the future," Schlissel said.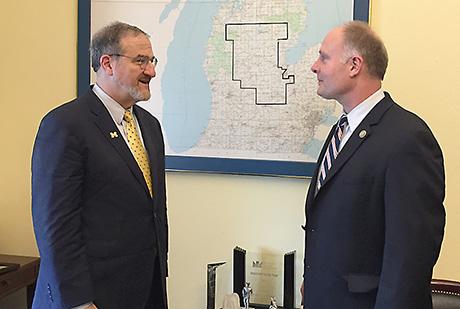 President Mark Schlissel (left) chats with U.S. Rep. John Moolenaar, R-Midland, during a visit to Capitol Hill on Tuesday. Moolenaar is a new member of the House Appropriations Committee and the two discussed important funding for the National Institutes of Health and student aid programs. (Photo by David Russell)
Schlissel later joined five other Big Ten presidents and chancellors in a meeting with Ryan to discuss overall research funding. Congress will be making decisions soon on the fiscal year 2017 appropriations, and later this spring will begin to debate funding for FY '18 for the entire federal government.
"Our global competitiveness depends upon America remaining the world leader in science and technology," Schlissel said. "We need our leaders to understand that the nation cannot afford to slide backward on this commitment to improving health care, national security and economic growth."