Schlissel honored for Go Blue Guarantee, commitment to DEI
President Mark S. Schlissel is being honored by The Rainbow PUSH Automotive Project for making college more affordable by introducing U-M's Go Blue Guarantee, as well as for his proactive work in the area of diversity and inclusion on the Ann Arbor campus.
Schlissel is one of four recipients of the inaugural Let Freedom Ring Awards, which pay tribute to the late Rev. Martin Luther King Jr. for his legacy in uplifting the human condition.
+ If you go
Cobo Center Atrium, Downtown Detroit

4:30 p.m., Jan. 15

Free, public is welcome
An awards ceremony is scheduled for 4:30 p.m. Monday at the Cobo Center in Detroit on the Martin Luther King Jr. holiday and as part of the North American International Auto Show.
"At Rainbow PUSH, we are pleased that under your leadership, the University of Michigan has notched up in promoting education that is not only collaborative, creative and interdisciplinary but also affordable," says the Rev. Jesse Jackson Sr., president and founder of Rainbow PUSH Automotive Project.
With the Go Blue Guarantee, Jackson says, "You took bold steps to reach talented students who may otherwise have missed the opportunity to attend your university just because of their financial status."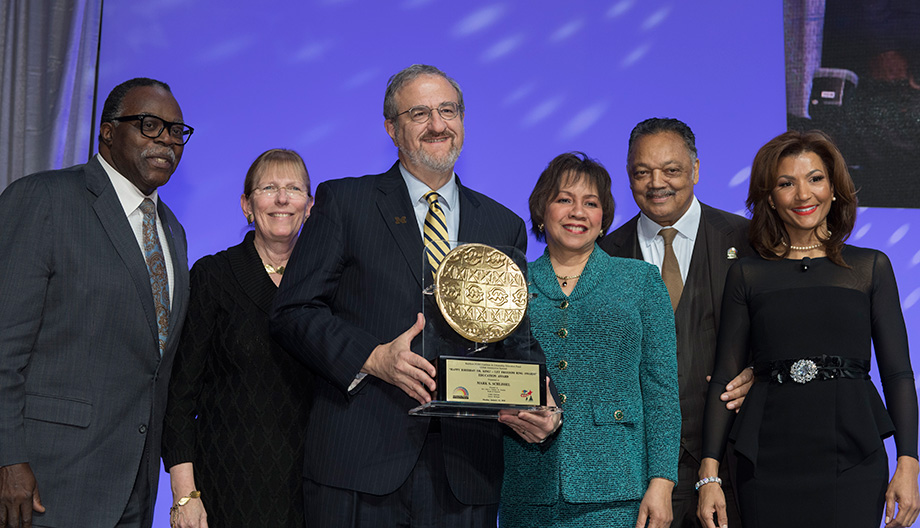 President Mark Schlissel displays the Let Freedom Ring Award he received from The Rainbow PUSH Automotive Project at the North American International Auto Show. Also pictured, from left, are: Event chair John Graves; the president's wife, Monica Schwebs; Iris Graves; the Rev. Jesse Jackson of Rainbow PUSH; and event hostess Lauren Sanders. (Photo by Roger Hart, Michigan Photography)
U-M launched the Go Blue Guarantee this month, offering four years of free tuition for in-state students from families with an annual income up to $65,000. The initiative builds on the HAIL scholarship program, now in its second year, which offers four years of free tuition to high-achieving, low-income students from throughout Michigan — a value of about $60,000.
The university also offers generous support based on calculated need for in-state students from families with incomes up to $180,000. Students from very low-income families can receive aid that also includes room and board up to the full cost of attendance.
"As a physician-scientist, professor and university president, I believe wholeheartedly that talent is ubiquitous in our society, but opportunity most certainly is not," says Schlissel.
"I appreciate Rev. Jackson and the Rainbow PUSH Automotive Project for their outstanding commitment to ensuring equal opportunities for all members of our communities. Their crucial work is an inspiration to all who value education, social justice and equality."
The award, Jackson says, also recognizes Schlissel's call for the continuation of the Deferred Action on Childhood Arrivals program "so DACA participants may remain in the United States without fear of deportation and so they can continue to contribute to our society."
U-M is in the second year of its five-year strategic plan for diversity, equity and inclusion on campus under Schlissel's leadership.
Progress includes the launch of Wolverine Pathways, an innovative pipeline program focused on creating a path to college readiness for middle and high school students currently living in the Southfield Public, Ypsilanti Community and Detroit school districts.
It also includes the development of tools to improve hiring and search processes for faculty and staff; creation of inclusive teaching professional development workshops offered by the Center for Research on Teaching and Learning;​ launch of a large-scale DEI staff training initiative across campus; and completion of the first universitywide climate survey on the topic of diversity, equity and inclusion.
Other winners of the Let Freedom Ring Award are Bankole Thompson, columnist with The Detroit News; Karen Weaver, mayor of the city of Flint; and Archbishop Desmond Tutu, South African civil rights activist and educator.
Following the awards ceremony there will be a musical tribute featuring two-time Grammy Award winner Melanie Fiona and Anthony Hamilton, a Grammy Award-winning artist who has been nominated 12 times for the music industry's top award. The event is free and open to the public.
The Rainbow PUSH Automotive Project was founded in 1998 to promote full and equal participation in the economic growth of the global automotive industry for people of color.