Retired ambassador's field experience informs his teaching
According to retired ambassador Melvyn Levitsky, being a professor of practice requires infusing stimulating scholarly material with real-life experience.
However, photos adorning his office — with Presidents Gerald Ford, Jimmy Carter, Ronald Reagan, George H.W. Bush and Bill Clinton — only hint at the fount of stories he accumulated during a 35-year career in the foreign service.
Levitsky, clinical professor of public policy in the Gerald R. Ford School of Public Policy, grew up in a mid-sized Jewish immigrant community in Sioux City, Iowa. He came to the University of Michigan for his undergraduate degree and to the University of Iowa for a master's degree in Soviet studies.
In seeking his career, he followed advice he now gives to students: "What do you look for? It should be interesting and useful." He was offered a job in the U.S. Foreign Service, which "certainly scored on those two points."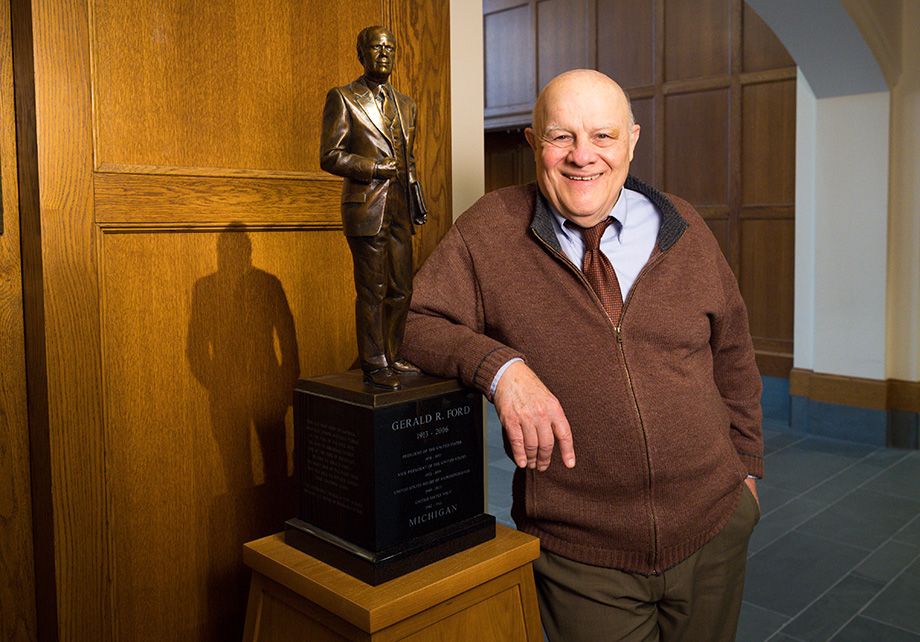 Melvyn Levitsky, clinical professor of public policy in the Gerald R. Ford School of Public Policy, had a 35-year career with the U.S. State Department, including terms as U.S. ambassador to Bulgaria and Brazil. (Photo by Daryl Marshke, Michigan Photography)
He served in various capacities, including as political officer for the U.S. Embassy in Moscow. During this time, President Ford visited the Soviet Union to negotiate the SALT-II treaty. Levitsky met him for the first time in a train dining car, and Ford's first words to him were, "We (the Wolverines) lost to OSU last night." Even in times of tense foreign relations, the president and former Wolverine piped in the UM-OSU game via telephone.
Levitsky also served as ambassador to two countries, Bulgaria in 1984 and Brazil 10 years later. Ambassadors are appointed by the president and are charged with promoting U.S. interests abroad. He also was executive secretary of the State Department and worked closely with Secretary of State George Shultz to organize the foreign policy process.
In 1989, Levitsky was appointed assistant secretary of state for international narcotics matters, in which he determined U.S. foreign policy on narcotics.
Then in 2003, the State Department lobbied for his appointment to the International Narcotics Control Board, which consists of 13 individuals acting independently in their personal capacities, not as government representatives. He served two terms, traveling across the world to advise countries with drug problems.
Levitsky retired from foreign service in 1998 and taught at Syracuse University until coming to U-M in 2006.
"I always wanted to come back. I love Ann Arbor and the Ford School. The students are terrific, I really enjoy it," he said. In addition to advising students interested in the foreign service, he teaches one course per semester.
The weekly Spotlight features faculty and staff members at the university. To nominate a candidate, email the Record staff at urecord@umich.edu.
He frames course exercises and simulations around his governmental and diplomatic experience, getting students to work in teams and think through policies on their feet. The idea is to look at what policies have been implemented, and discuss why they were or weren't successful.
"Even in old cases, you can unpack its successes or failures and learn lessons about current policy," he said.
Overall, Levitsky sees his experience in the field as complementary and integral to teaching Ford School scholars.
"I'm very pleased to be at a place where my own experience is valued. My colleagues have done a lot of deep research, and even though we come from very different worlds we respect each other. It's also a learning experience for me, I can learn from them even at my age."
Q & A
What can't you live without?
My family — wife, three sons and two daughters-in-law (U-M alums), and eight grandchildren, one of whom graduates from the Ross School next year. Second place — peanut butter.
Where is your favorite spot on campus?
The Gerald Ford School (next to my old fraternity house, Pi Lambda Phi. The building is now the Chabad House).
What inspires you?
Our students. I'm amazed by their accomplishments in and outside the classroom.
What are you currently reading?
Foreign Affairs, Foreign Policy, The Atlantic, The National Interest, Commentary. Outside of those, I like to read Ray Bradbury's sci-fi stories.
Who had the greatest influence on your career path?
John F. Kennedy, who inspired me and many of my generation of college grads to enter the foreign service.