Regents OK schematic design for new Trotter Multicultural Center
Plans for the William Monroe Trotter Multicultural Center are continuing to move forward, as the Board of Regents approved the schematic design Thursday for the new building.
The new $10 million facility will accommodate replacement spaces from the current Trotter Center and contain a multipurpose room with the ability to host approximately 300 people. That room will allow for banquet-style seating for conferences and events, and an alternative active-learning configuration for 130 people. 
The 20,000-square-foot-building will be nestled onto a prime site along State Street, along with the Kelsey Museum of Archaeology, Betsey Barbour House and Helen H. Newberry Residence.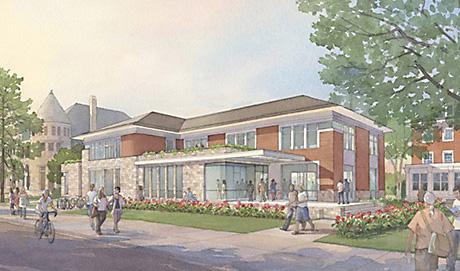 An artist's rendering of the new William Monroe Trotter Multicultural Center, to be built along South State Street. (Drawing courtesy of Hanbury)
"Students told us they wanted an inclusive home, visible to the whole campus community," said E. Royster Harper, vice president for student life. "Creating a new Trotter in this space answers ​that need, and is a powerful way of telling all students they are welcome."
Exterior materials will include brick and stone from the same quarry as the Kelsey Museum stone. The two-story building also includes a lower level and is designed to fit the scale of existing university buildings and the nearby community. 
The current Trotter building, formerly a fraternity house, has been the home of the multicultural center since 1972, and contains student and staff support spaces.
Leading up to the regents' initial approval of the project in December 2015, university administrators were involved in extensive outreach efforts across campus and beyond, hosting four town hall meetings and eight focus group sessions, and reaching out to other universities for input about their multicultural centers.
U-M administrators also surveyed students to get feedback about how the center could best serve their needs. 
The design firm Hanbury was directed to incorporate as many elements as possible based on the feedback from the university community.
The project is expected to be completed in fall 2018 and will be paid for with funds from investment proceeds and gifts.