Regents OK schematic design for Dental School renovation
The School of Dentistry will undergo a major renovation project to create a more welcoming, accessible facility with an improved patient entrance, modern teaching clinics and open, flexible research space.
The Board of Regents approved a schematic design for the work Thursday.
The $140 million project includes a deep renovation of 172,000 square feet of space in the W.K. Kellogg Institute and Dental Building, built in 1940 and 1969, respectively. An addition of 37,000 square feet will be included. The complex sits at the intersection of North University Avenue and Fletcher Street.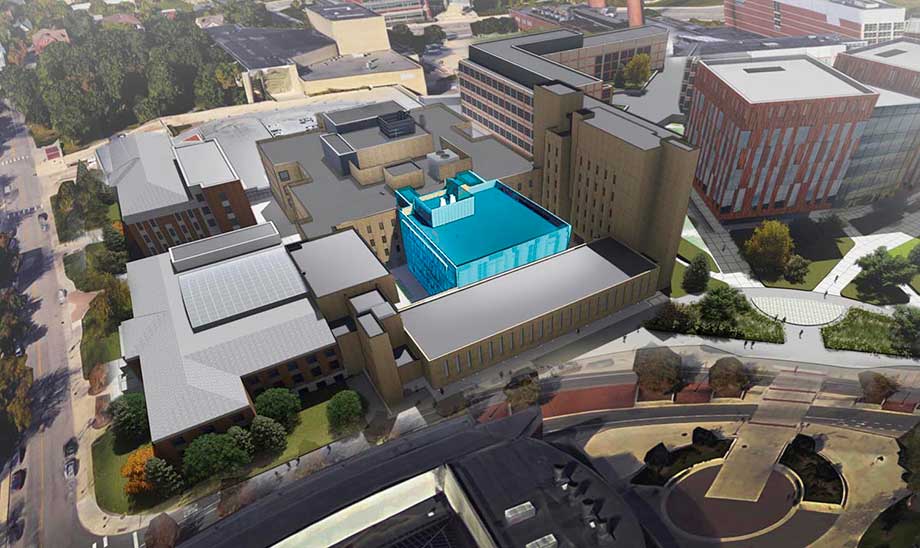 Improvements at the School of Dentistry complex will include a three-story addition (highlighted in blue) to be constructed in the central courtyard. (Image provided by School of Dentistry)
Part of the project includes a special-needs, inter-professional care clinic to treat patients with complex medical conditions and disabilities.
The renovation also will address deferred maintenance, including exterior work, life and safety, electrical, mechanical and plumbing system improvements.
The architectural firm of SmithGroupJJR designed the project, which is expected to provide an average of 85 on-site construction jobs.
The project is supported, in part, by funding through the state of Michigan's Capital Outlay Budget. Once construction is authorized by the state Legislature, the state will provide about $30 million in financial support. The balance of the funding will be provided by Office of the Provost and School of Dentistry resources.
A phased construction schedule is planned in order to minimize disruption to the academic calendar and dental patient visits, with construction to be completed in the spring of 2022.