Regents approve schematic design for North Campus Recreation Building
The North Campus Recreation Building, a vital hub of the North Campus community, will receive its first renovation in 40 years. Addressing long-awaited infrastructure needs, the project will also modernize the building's fitness offerings and amenities.
The Board of Regents approved schematic design for the work on Thursday.
"The ideas of recreation, fitness and wellness encompass so much more today than when the NCRB opened in 1976," said Mike Widen, director of Recreational Sports. "That's why we gathered feedback for the design from the whole campus community, to see what our users truly value in their recreation experience today.
"One of the remarkable things about the NCRB is that it is just as popular with staff and faculty as it is with students. It's a mix of new users and members who have been coming for years, so we are thrilled that we can provide a revitalized, state-of-the-art facility for everyone."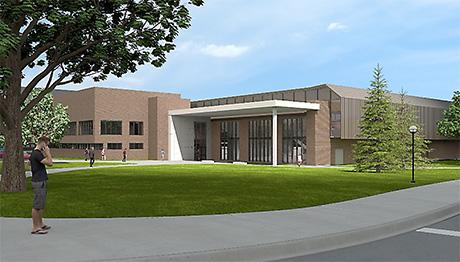 An artist's rendering of the renovated NCRB. (Drawing courtesy of Integrated Design Solutions)
The NCRB renovation is the third project on campus for U-M's recreational facilities. Renovations already have been completed at Mitchell Field and the Intramural Sports Building.
All Recreational Sports facilities are available to U-M faculty, staff, retirees and alumni through the purchase of a Recreational Sports membership.
The project will repurpose existing, under-utilized spaces to improve cardio, strength and group exercise areas, as well as enhancements to the building's entry.
The renovated building will also feature improved racquetball and squash courts, a sauna and a resurfaced running track, while providing Americans with Disabilities Act-compliant locker rooms, and a gender-inclusive locker room and restroom. Infrastructure and architectural updates also will be made in the pool area.
"My freshman year living on North Campus, we loved having the NCRB right there so we could de-stress and build community," said Cierra Davis, LSA junior. "It's going to mean a lot to students on North Campus to have a renovated rec center in our own neighborhood."
Accessible by the U-M bus system and with good parking availability for faculty and staff, the NCRB has long been a recreational facility of choice for anyone working on campus.
"So much of the drive and energy for this renovation came from our students, in particular the student organization Building A Better Michigan," said E. Royster Harper, vice president for student life. "We are grateful for their vision, and that we are closer to bringing it to life."
Infrastructure upgrades will include accessibility improvements and electrical, heating and plumbing system enhancements. There will be no impact on parking from this project.
Integrated Design Solutions, in association with RDG Planning and Design, are the designers of the project.
The renovation is estimated to cost $17 million, and funding will be provided from the Student Life Student Fee for Facility Renewal. The project is expected to provide an average of 24 on-site construction jobs and is expected to be completed in fall 2018.