Regents approve renovation of Pierpont Commons Cafe
The Board of Regents on Thursday approved renovation of the Pierpont Commons Cafe, which will provide a new dining experience on North Campus with more seating and study space for students, faculty and staff.
The project will cover approximately 10,500 gross square feet within the cafe's servery, dining areas, and adjacent corridors. The work will provide upgraded finishes and seating, new culinary stations, and select upgrades to infrastructure including mechanical, electrical, plumbing and network systems. Renovation is to begin in March with the facility set to reopen in August.
"This is the first major project over the next several years that is part of a planned program to renew and revitalize University Unions and Recreational Sports facilities," said Loren Rullman, associate vice president for Student Life. "Inviting, vibrant community spaces are vital to the daily social and intellectual interactions of students, faculty and staff. We are excited to see the plan commence at Pierpont Commons."
The conceptual layout of the dining facility will include five separate food features or restaurant concepts. The space design will invite visitors to explore the variety of a new menu of entrees including made-to-order and grab-and-go, international flavors and homestyle American. Local, healthy and fresh foods will be emphasized, including seasonal items throughout the year.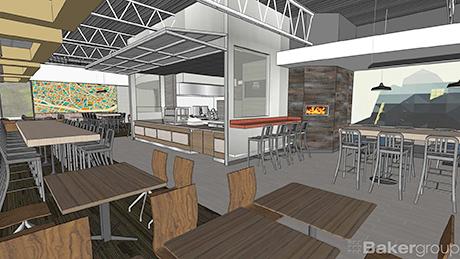 This is an artist's rendering of improvements planned for Pierpont Commons Cafe. (Illustration by Bakergroup)
A comfortable dining room adjacent to the cafe will have several seating options, including a community table. Fireplaces will be located in the dining space to create a warm ambiance, and large windows will harvest natural light and highlight the beauty of North Campus. The new layout will enable visitors to see the restaurant upon entering Pierpont Commons through the Murfin Street entrance.
The student organization Building A Better Michigan was instrumental in surveying student support and successfully advocating for improvements to recreation and unions facilities. 
"Students agree that these buildings are essential to attaining the level of success we expect from ourselves at Michigan. The cafe in Pierpont Commons will better serve student needs and accomplish this mission after its renovation," said Louis Mirante, co-chair of BBM.
"On behalf of the students involved in this process, BBM would like to thank the regents, President Coleman, and all of the administrators involved in this process, because they have reflected a keen stewardship of student interests at all steps of this process."
The architectural firm SHW Group of Berkley, Mich., will design the project, which has an estimated cost of $5.3 million.
The overall capital program commitment of $173 million over the next several years will include, in addition to the Pierpont Commons project, renovations and improvements to Mitchell Fields, the three Recreational Sports buildings, and the Michigan Union.
Funding will be provided from a new student fee for Student Life facilities renewal, as well as contributions from Student Life, Athletics, Parking and investment income.