Regents announce plan to extend Schlissel's contract for five years
The University of Michigan Board of Regents on Thursday announced plans to extend President Mark Schlissel's contract for an additional five years after commending him for continually "knocking the ball out of the park."
The announcement comes as Schlissel begins the fifth academic year of his five-year contract. The board must still approve a formal action at a later meeting.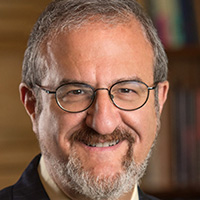 Mark Schlissel
"The university, by all important measures, is doing exceedingly well under his leadership," said Regent Andrew C. Richner, board chair, praising Schlissel's accomplishments during the past four years.
In particular, Richner cited academic and health system rankings that continue to climb, record-level research funding, and the implementation of the Go Blue Guarantee, an innovative financial aid program offering free tuition to most in-state undergraduate students from families with an annual income of up to $65,000.
"From the outside, I don't think we all appreciate just how demanding and complex the job of University of Michigan president is," Richner said. "I know that this president spends 24/7 on his responsibilities and, as a consequence, we've all benefitted in the community from his hard work."
In addition to the planned contract extension, Richner also introduced a 3.5 percent salary increase for the president, which was unanimously approved. Schlissel's new base salary is $852,346, effective Sept. 1.
The pay increase is "commensurate with levels of his peers at the best public universities in the country," Richner said.
Schlissel said he appreciated the board's partnership over the years and often tells his friends that his role as president is the "most challenging, but the best job in all of education."
"I appreciate the vote of confidence," he said. "Thank you all very, very much."
Since beginning as president in July 2014, Schlissel has launched a number of initiatives including ones to further academic innovation; promote diversity, equity and inclusion; and address issues of poverty.